Business Overview
Avio, a global leader in the aerospace industry with 5000 employees, develops and delivers subsystems and components to major international aeronautical, military, civil and space programs. See how their trial of Open iT software yielded a high return on investment, with a 47% cost reduction on the annual IT costs for one of their most expensive engineering applications.
Business Challenge
As the company grew, the existing commercial solution for measuring software usage was insufficient for cost and feature constraints—they needed flexible software management tools with powerful analysis capabilities. Avio required factual data about license use, and had begun to look for a solution that would support multiple license managers such as FlexNet and LUM.
Having evaluated various asset management tracking solutions, Avio enrolled Polimatica, an IT consultancy firm, to team up with Open iT to acquire its platform. LicenseAnalyzer, LicenseOptimizer and SystemAnalyzer modules were installed on a number of selected computer and workstations. These modules then used a single, centralized database on one dedicated server to store the data being logged from the software license managers.
Open iT Software Solution
The project began by using the LicenseAnalyzer client on 13 License Servers, and deploying SystemAnalyzer for data acquisition on 500 PCs and workstations.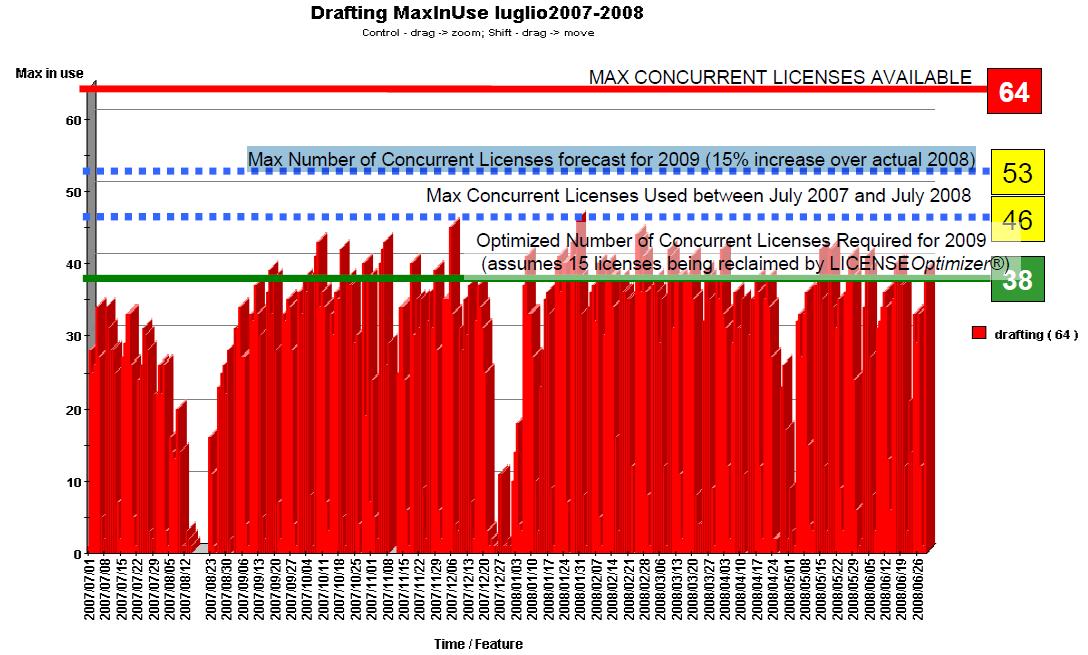 The first phase involved finding actual software usage levels and patterns, by collecting and analyzing the application license usage data being gathered. Polimatica provided insights about several utilization metrics, and assisted with collecting data and analyzing it to see how hardware and other system resources were being used on each client. The data gathered also provided insights about actual system obsolescence and local application usage.
The second phase of the project shifted to using LicenseOptimizer to improve software license availability. LicenseOptimizer detected active and inactive application usage, and the inactive applications were suspended and licenses released, resulting in a faster circulation of available licenses among users. Avio's target was to define the optimal number of software licenses needed to:
Achieve a maximum level of efficiency.
Accommodate a forecasted 15% increase in license demand due to increased business activity.
Maintain a high quality level of service to users.
Results
During the first phase of the testing, Avio achieved a documented 40% reduction of the company's yearly IT costs for one of their most expensive engineering applications. During phase 2, despite a 15% increase in user demand, the company achieved an additional 14% reduction in annual costs for the same software application. The company achieved a total cost reduction of 47% for the year and was able to pay for the Open iT software with just half of the money they saved from that software application.
With the 47% cost reduction achieved from the tests, Avio concluded in its study that Open iT proved to be a valuable tool with a high ROI. Aside from that, Open iT also enabled to make further discoveries by using a wide range of metrics, discoveries which allowed the company to address many sides of IT infrastructure optimization.
Summary
Having achieved great cost optimization, Avio then extended license usage metering to cover more engineering applications and other locations worldwide. With simple IT inventory reports based on available historical data, they discovered further areas in which to optimize productivity with better application usage, and by implementing active hardware obsolescence policies.
With the 47% cost reduction achieved from the trial, Avio concluded that Open iT proved to be a valuable ITAM tool with a high ROI. Open iT, with its wide range of metrics, enabled further discoveries that the company could use to further optimize its IT infrastructure.
Schedule a demo today to see how you can use Open iT reports for cost optimization.