Clients Dashboard #
The Clients Dashboard includes an overview of all connected Open iT Clients and consists of three (3) components:
Client Dashboard Filters
Platform and Status Category
Client List

Client Dashboard Filters #
This area includes the search and data sources filter functionalities of the dashboard.
To search, type in the specific hostname in the Search box.


To filter the client list by data source, click the Filter icon or Data Source drop-down and choose among the available items. Click the Delete icon to remove the filter.



Platform and Status Category #
This area includes the total client count, client count per platform, and active client count. This also filters the client list.
To filter, click the display count of the specific platform or status. Click the total count to remove the filter


Clients List #
This area contains the table listing all the connected clients. This includes:
To see the details and configure data source(s) of a specific connected client, click the desired client Hostname in the list. This redirects to the Client Overview Dashboard.
Client Overview Dashboard #
The Client Overview Dashboard lists all configurable data sources or license managers available in the client. The tabs that contain functionalities for configuration are:
Data Sources
Health Check
Files

Data Sources #
Data Sources Dashboard #
The Data Sources tab serves as the landing page of the Client Overview Dashboard. It contains:
Data Sources Filter
Data Sources List

Data Sources Filter #
The Data Sources Filter area controls the dashboard display. By default, all the available data sources are displayed.
To filter the list, toggle the Hide inactive sources option. This filters the dashboard, leaving only the active data source(s).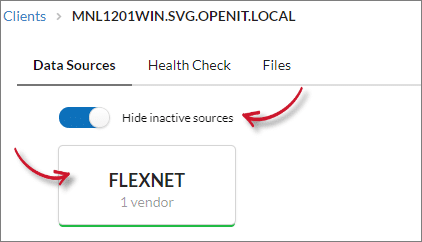 Data Sources List #
The Data Sources List contains all configurable license managers or data sources configurable in the client. Each tile includes the following information:
License Manager Name – the name of the supported license manager
Active Configuration – the number of active configurations in the data sourc
Status – color signifying active or inactive configurations

green – has active configuration
gray – no active configuration

Click the data source tile to redirect to the Data Source Configuration page.