Challenges for Software Publishers: Flexible and Transparent Product Pricing
With the constantly changing needs of software consumers and an increasing demand for financial accountability, there is a huge competitive advantage for software publishers who can offer flexible, economic and transparent pricing strategies. Now more than ever, customers want to be confident that software costs are commensurate with the value they receive.
Usage based licensing
One software licensing model gaining popularity is the usage-based or pay-per-use model. As its name implies, a pay-per-use license model relates the cost paid by the customer for the use of the software to the time period of use. Different from the perpetual or lease license agreement, it can provide the customer with access to the software at a low upfront cost.
For the software publisher, however, adding a usage-based monetization structure can be challenging. One challenge can be to expand the existing licensing approach to support a usage-based model. The software vendor may also need to expand existing invoicing and customer notifications to accommodate usage-based customer agreements. The accurate collection of usage data, correlation to customer contracts, maintenance of account balances, and targeted communication to the right company contacts are all critical to success.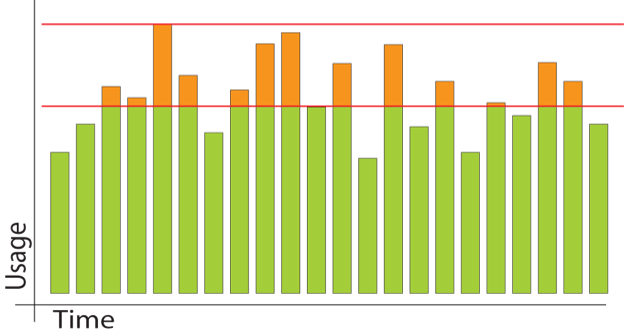 On the upside, a strong pay-per-use licensing program can strengthen the customer's perceived value beyond just licensing flexibility. An optimal offering is based on accurate measured use of the software by the customer. A complete solution provides the customer with rich information about their actual use of the vendor's software – not just the flexible pay-per-use licensing, but the complete picture of all the vendor's licensed software, enabling the customer to fully understand and manage their portfolio of the vendor's software. With this capability, flexible licensing becomes the vendor's premium offering.
Elastic Licensing from Open iT
Open iT introduces Open iT Elastic Licensing—a comprehensive solution linking software vendors to the actual use of their software at the customer site, enabling usage-based customer agreements based on true metered use.
Proven TrueUse™ technology – the same technology providing industry leading software metering to Fortune 500 companies worldwide – is used to provide the end customer with rich usage reports allowing them to track the software publishers' usage data by department and end-user. It also provides the software publisher with an appropriate subset of usage data to inform accurate charging for software use. This securely shared usage data between the customers and the software vendors facilitates the pay-per-use licensing program.

Open iT Elastic Licensing enables software publishers to provide usage-based licensing across a range of software deployment scenarios, from single to global sites and from on-premise to cloud. The solution is compatible with the vendor's existing licensing mechanisms and integrates easily with existing order and billing systems for revenue recognition.
At the customer site, Open iT Elastic Licensing delivers an easy-to-use metering application providing the customer with a wide array of software usage reports and powerful real-time views of current usage. Live data is collected so that managers can easily see how the software is being used across the organization independent of the software publisher.
Incorporating Elastic Licensing into vendor business practices
Open iT Elastic Licensing provides the vendor with periodic usage summaries from each customer. This data is received by the vendor through a secure firewall solution utilizing high encryption and security best practices to address concerns of both customers and software publishers. Open iT can also provide a scalable, robust solution for managing all customer data received, for integration of customer-specific usage data with the software publishers' existing order and billing systems, and for the analysis and understanding of usage patterns to support the needs of sales, program and product management – all while maintaining Sarbanes Oxley compliance. Customers find that their detailed local information matches what the software publisher states as their usage, affirming their positive experience with the publisher and building confidence.
Adding a complete pay-per-use program to a vendor's portfolio can now be accomplished in months, not years. Open iT business process specialists and technical staff are available to help discuss how the software publisher's go-to-market strategies can best be accomplished using Elastic Licensing from Open iT.
Benefits
For End Users
Rich reporting – Detailed usage reports show actual use of the ISV's software
Dashboard status – Monitor current usage of all the ISVs software
Pay for software usage – Shared usage information securely enables pay-per-use
For Software Publishers
Fits all customers- From single to global sites, from on-premise to cloud
Minimum disruption – Compatible with existing licensing mechanisms
Rapid launch – Integrates into ISV's existing order and billing systems for revenue recognition
With the Open iT Elastic Licensing solution, software publishers can now offer a real usage-based licensing model that is secured, easily integrated and ensures a positive experience for the customer.