Open iT Analyzer for Autodesk Licensing helps cut software license costs and reduce wastage on license usage by monitoring activity levels of all Autodesk applications regardless of licensing type.
It allows administrators in an organization to manage these costly resources by providing an enterprise view of Autodesk licenses, showing when and by whom these licenses are used over time, by location, business unit or project group, for all types of Autodesk licenses:
Perpetual – As of January 31, 2016, Autodesk stopped selling new perpetual licenses, but those that have yet to switch to subscription-based licenses can still renew their maintenance and support, which had a price hike in 2017.
Subscription-Based Licenses

Standalone License – A user with a stand-alone license can download and install the software assigned to them on up to three devices, but can use only one of the devices at a time.
Network License (Multi User Licenses) – Administrators can install a product on an unlimited number of devices, but the total number of people accessing the product at one time is limited to the number of purchased seats.

MultiFlex – Global concurrent license
Token-Flex – An organization has a set pool of tokens that is renewed on a yearly basis. Each individual feature/product then has it's own token cost. This cost is withdrawn from the organization's overall pool of tokens when a user opens an application or uses a feature.
Local concurrent license agreement

360 product line – This can be accessed and used on web, mobile, desktop, and do not use a license manager.
Analyzer for Autodesk Licensing provides a fully customizable and advanced web-based interface for license usage monitoring. Generated reports can range from a worldwide enterprise view down to a single user, real-time or historical, and may be viewed on a web browser, printed, or exported to popular spreadsheets.
Autodesk License Inventory
Find out what type of licenses (network, standalone, free trial) are being used.

Collection-Package-Feature Mapping
Unlike our competitors, Open iT has the ability to rename cryptic and confusing application names to much more recognizable and easy-to-read application names, which can even be mapped to the vendor's price book.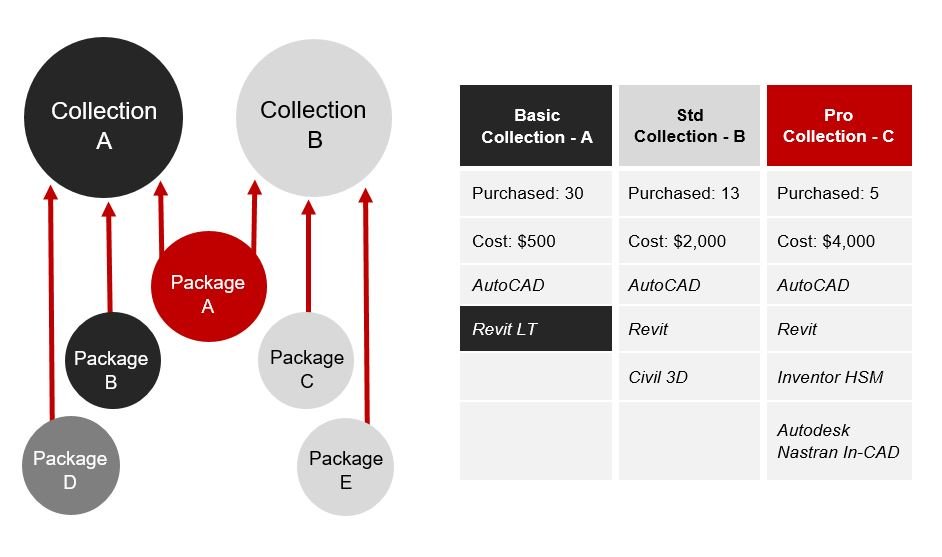 License Monitor Portal with Alarms and Alerts
See an enterprise-wide overview of Autodesk license usage in real-time right on your preferred web browser. Set up customizable alarms and alerts at your convenience.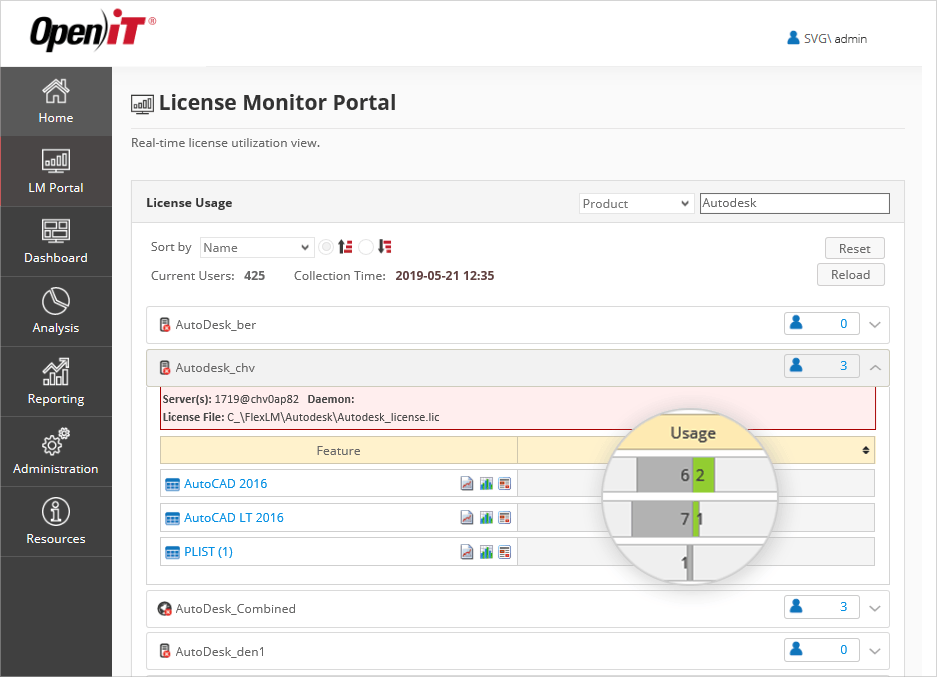 Chargeback Accounting for Autodesk License Usage
Generate IT audit reports to easily assign the cost of Autodesk license usage to user groups, projects, business units or even global sites.
Accurate and Reliable Autodesk License Usage Reports
Easily create customizable reports on software usage of all Autodesk applications. Produce detailed tabular reports with information such as product, application, feature, user name or host name; or choose to present a software usage report visually with easy-to-understand graphs and charts.
Easy export to Excel
Generated reports can range from a worldwide total enterprise view down to a single user, real-time or historical, viewed on a web browser, printed as is, and/or exported to popular spreadsheets.
Token-Flex License
Token-Flex is based on Distinct User per 24-hour period * Token Cost, which is supported out-of-the-box
Supports data filtering to match license agreement, e.g. include only usage >= 5 minutes
Hourly reporting to help identify the best 24-hour definition
Supports changing of time zone in reporting to cater agreement's 24-hour definition
Token-Flex is consumption-based, so it's nice to see the running consumption in addition to the total and usage trend
Another thing to note here are the users with very minimal elapsed time – since the usage is calculated based on the Distinct users.
MultiFlex
The report belows shows that the US should have its own local concurrent license server: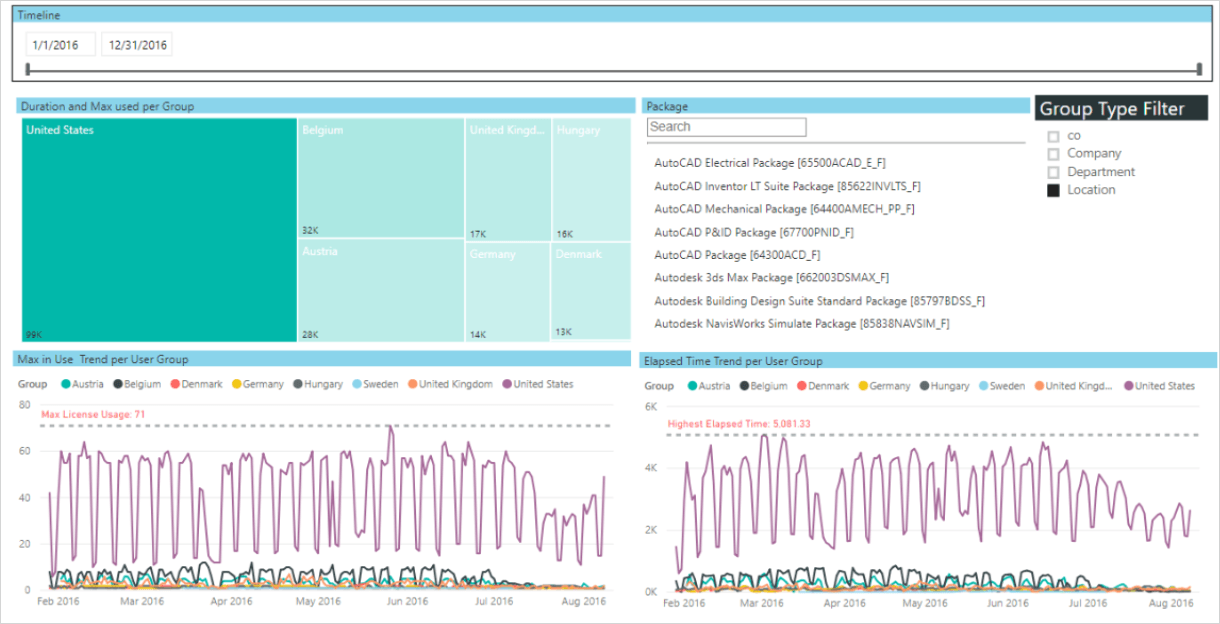 Autodesk 360 Usage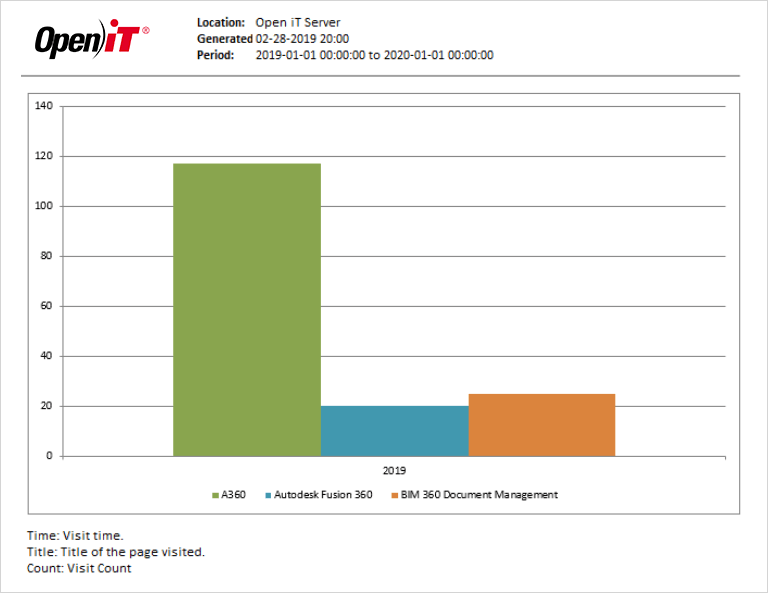 Autodesk Utilization Trend
This report shows which and how many licenses are utilized at a given period of time.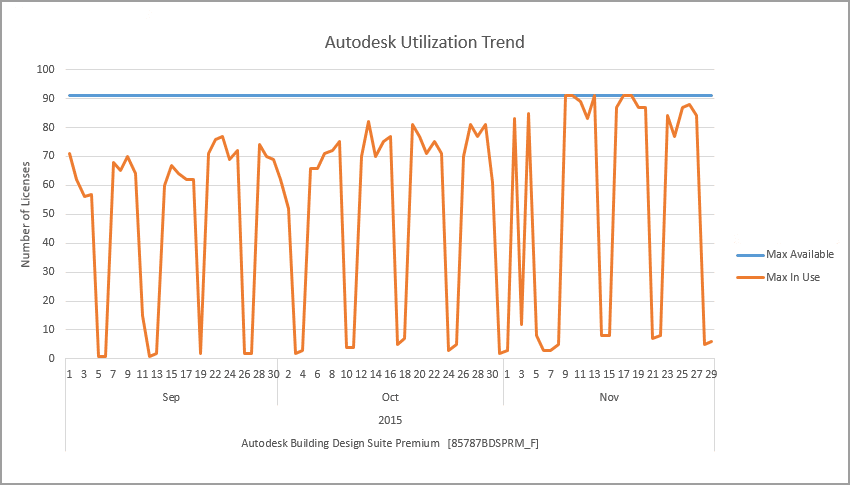 Top Ten Most Used Autodesk Features
This report shows the duration of the top Autodesk features.