Building Software Optimization Success with Open iT License Usage Metering Solution

"Open iT usage reporting has enabled us to make detailed business decisions, optimize applications with minimal effort and significantly reduce annual software expenditures."

Business Overview
Chiyoda Philippines Corporation (CPh), is a wholly owned subsidiary of Chiyoda Corporation in Yokohama, Japan, one of the largest engineering and construction companies in the world. CPh is primarily engaged in engineering design serving the requirements of Chiyoda Corporation, which is presently undertaking engineering, procurement, construction and other related facilities development work for their customers in gas processing, petroleum refining, and other petrochemical products. With a wealth of experience in its area of expertise, CPh has become a competitive engineering service contractor responsible for the development of refineries and other related projects in the country.
Challenge
The company gathered and integrated user license information across multiple departments for its annual IT Budget Plan. It had always been a challenge collecting such data because the majority of license cost was only based on the request of users and managers. Also, the huge manual effort involved in obtaining an accurate licensing position was error-prone and tedious. With an increasing number of licenses to manage, it had become a big challenge to reduce cost and eliminate idle applications wherever possible.
CPh realized that there was a growing need to produce reliable and accurate software usage reports with the use of a tool that would help the company:
automate the process of obtaining an accurate licensing position;
carefully analyze the usage of its software assets;
purchase licenses based on actual need as evidenced by active software usage;
find where to cut cost without compromising business productivity;
track the software installed and used on individual workstations; and
mitigate the risks associated with audits conducted by software vendors.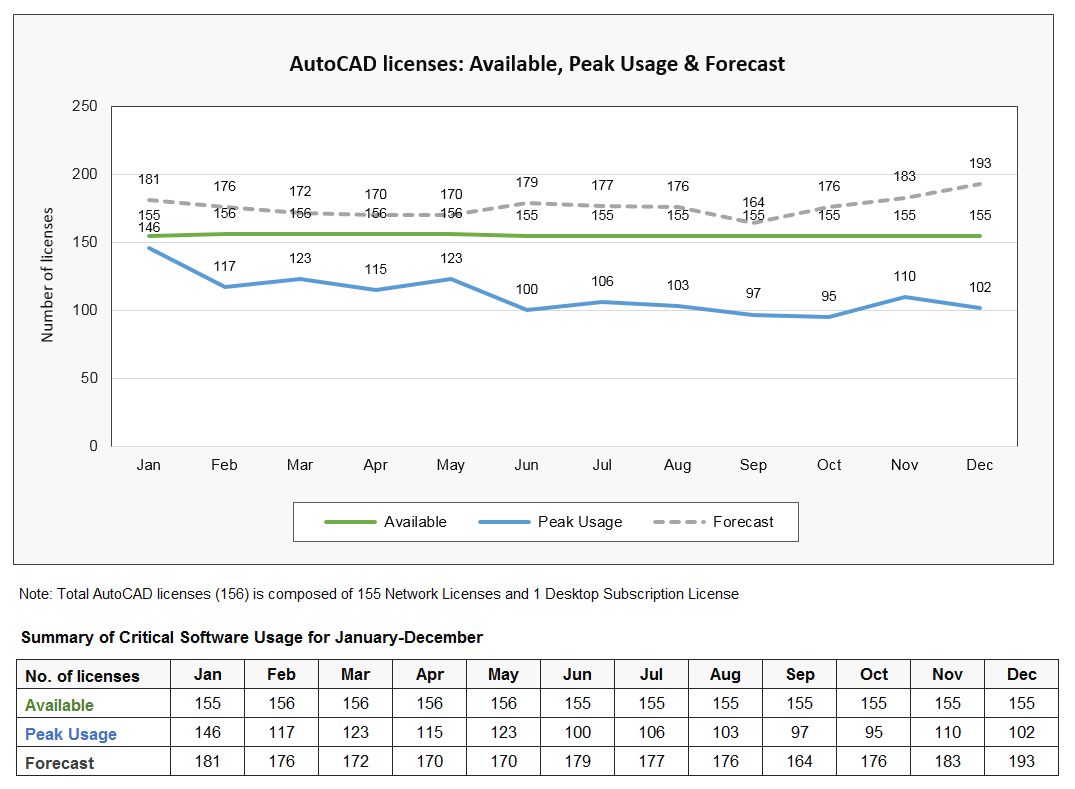 Solution
CPh came across Open iT after thorough web research, and decided to evaluate it along with the other software metering solutions. Open iT proved to be the most promising in meeting the needs of CPh. After the evaluation process, CPh acquired Open iT Base Enterprise with LicenseAnalyzer, ApplicationTracker, and SystemAnalyzer modules.
ApplicationTracker was utilized in conjunction with LicenseAnalyzer to track the true use of license-based software. Through these tools, CPh discovered that some of the licenses checked out at peak instances were not being actively used, thereby denying vital assets to other employees.

The tools also showed which users were using which licenses, whether standalone or network, for how long. With these reports, CPh was able to acquire a better understanding of their licensing position and base their decisions on license purchasing on tangible evidence of actual software usage.
SystemAnalyzer was deployed to track software inventory and provide detailed reports on individual software applications and the workstation where they were running. This limits the risk of finding violations during external audits of software vendors, a risk that is difficult and time-consuming to discover manually.
Open iT software gave CPh access to an intuitive interface that is easy to understand and presentable to employees not directly involved with software acquisition. Through compatibility with tools such as Microsoft Excel and Power BI, comprehensive metering data produced by Open iT software can quickly be converted to easy-to-use datasheets and infographics.
Results
Since 2012, CPh has been using Open iT Software Solutions for optimizing and managing both desktop and network-licensed applications. With the assistance of reliable usage data, CPh can now easily forecast and purchase the correct number of applications. The company has also been able to identify and optimize unused licenses enabling them to avoid unnecessary software leases. For the years 2016 and 2017, they were able to achieve significant savings equivalent to 147% of what they paid for Open iT Maintenance and Support Fees.
Having a usage metering system in place, CPh now has full-scale visibility and control to recover unused licenses, improve productivity, and effectively manage and plan its software purchases. Generating reports is no longer a burden. CPh can now easily create simple, comprehensive and accurate reports, providing it the capability to distribute software according to each department's usage, eliminate unused applications and reduce application costs. Open iT also mitigated the risks involved in vendor audits because of the accuracy and reliability of these reports.
Open iT has been a cost-effective tool for CPh, and the quality of data helped CPh save a considerable amount of money by ensuring that the company purchases only what it needs, and that the people who need it get to use it.
For More Information
Call or email with your inquiries to sales@openit.com about any or all of the software solutions that may best fit your organization's needs. Schedule a free demo today to see how you can use Open iT reports to lower your IT costs.
We welcome customer feedback and eager to help with technical questions through support@openit.com.