Open iT Suite of IT asset management tools meter and report on usage of applications, servers, storage, databases and services across an entire organization, from a total enterprise view down to each individual user. It is built on a client/server infrastructure and includes reporting tool mechanisms.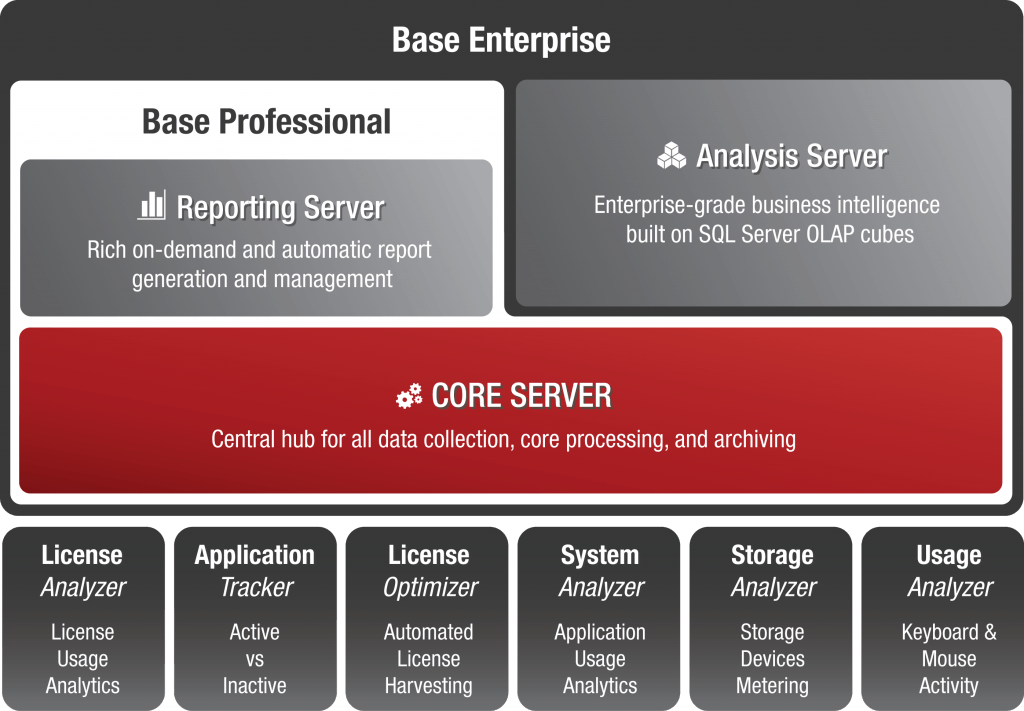 There are six different applications that collect and report data from various IT assets.
Collected data is periodically sent to the Open iT Core Server, where it is processed and stored. Two types of reporting tools, the Open iT Reporting Server and the Open iT Analysis Server, may then pick up these stored data to generate customizable reports on a web browser.
Applications We Meter
The abundance of new enterprise-type applications and infrastructure resources is resulting in IT complexity and greater financial risks. Managing the usage and predicting the cost of these software can be challenging but if you have an up-to-date software usage metering system like Open iT, you have the capability to directly monitor and control a wide, and ever growing variety of enterprise applications. List of Applications We Meter (Non-Exhaustive)
Flexible and Customizable Reporting
Open iT Reporting Server is a reporting tool with proprietary database that can generate both historical and real-time reports. It is a push-based software asset management tool for automatic delivery of on-demand and predefined periodic reports, which may be generated daily, weekly, monthly, quarterly, etc.
Open iT Analysis Server is an enterprise-grade, SQL-based analytical tool, which is aimed at high-end users and organizations with complex reporting and analytical needs to better view and manage their business process. It uses a standard industry protocol, which can export report data to user interfaces other than Open iT. It also includes a web interface called Reporting Services that enables users to create customizable report templates, as well as a real-time view, an alert system of license usage, a powerful profile and excel-based dashboards. By integrating global usage metrics with financial, repository, human resources and other data sources, the Analysis Server provides a streamlined workflow for business process management, optimization and reporting across the entire organization.
Report Templates
Based on extensive customer feedback and over a decade of experience, each module comes with a standard set of reports. The templates are customizable and new reports based on specific needs may be easily built completely. Reports may be run on a scheduled basis or created on demand. Scheduled reports are added to a queue generated automatically at configurable intervals and run periodically such as daily or monthly. Users may determine which reports are available and how often, covering which data sets and ranges.
Direct Excel Integration
All reports can be opened in Excel by simply clicking the "Generate Excel Report" button on any report. It is powerful and easy to use. Work with templates, create instant ad-hoc reports, or set up automatic report distribution with powerful access control mechanisms. Reports can also be e-mailed or integrated in an intranet portal and automatically updated. Security can be set up with advanced access control and automatic masking of sensitive data.
Packaged Editions
Open iT Software Suite is packaged in two different editions: Open iT Base Pro and Open iT Base Enterprise.
Open iT Base Pro includes the Open iT Base, Core Server and Reporting Server.
Open iT Base Enterprise includes all of the components of Base Pro plus the Analysis Server.
Open iT software supports Windows (Microsoft Windows 7, Windows 8, Windows 8.1, Windows 10, Windows Server 2008 R2, and Windows Server 2012 R2) and UNIX (Redhat Enterprise Linux Version 5 and above or equivalent such as CentOS) platforms. For more information regarding the Open iT Software Suite packages and/or components, schedule a demo.