Open iT StorageAnalyzer™ is an IT asset management tool that monitors files, file systems, disks and backups to enable accurate IT asset planning and efficient use of storage resources.
StorageAnalyzer allows IT administrators to accurately manage data storage. It provides full visibility of storage resources and provides an accurate basis for optimizing current resources and for planning storage investments.
Get an overview of all storage resources and enable proactive storage management by minimizing its complexity. Create graphical or tabular reports showing storage usage trends to simplify analysis of storage resources. Reclaim storage space by uncovering files that can be moved or deleted to maximize storage efficiency and reduce storage costs.
Enable chargeback accounting for the use of storage resources to easily assign the cost of storage usage to user groups, projects, business units or global sites with StorageAnalyzers's audit reports. Support data backup control and prevent system failures associated with mismanagement of storage resources.
Discover storage usage trends, cut IT costs, budget more accurately and prevent system failures using StorageAnalyzer's usage reporting across multiple storage resources.
Analyze Storage Resources for a Proactive Storage Management
Easily create detailed tabular reports on storage usage with data such as:
Name of the project in which the job belongs
disk space usage monitoring for each user classified by file type
disk usage by project
total, used and free space on each file system
file owner and group
"read and write" temperature for files (file age/last accessed and modified)
which and how much data has been backed up or archived
which file systems have been migrated
Storage usage reports may also be visually presented through easy-to-understand graphs and charts.
Reduce storage costs by gaining a better understanding of storage resources and uncovering opportunities for storage optimization. StorageAnalyzer's reliable metering of storage resources helps in avoiding unnecessary purchasing of additional storage. Reclaim storage space by discovering files that can be deleted or moved to a cheaper storage to maximize storage efficiency.
StorageAnalyzer reports also help discover storage trends that are useful for IT planning and data backup control.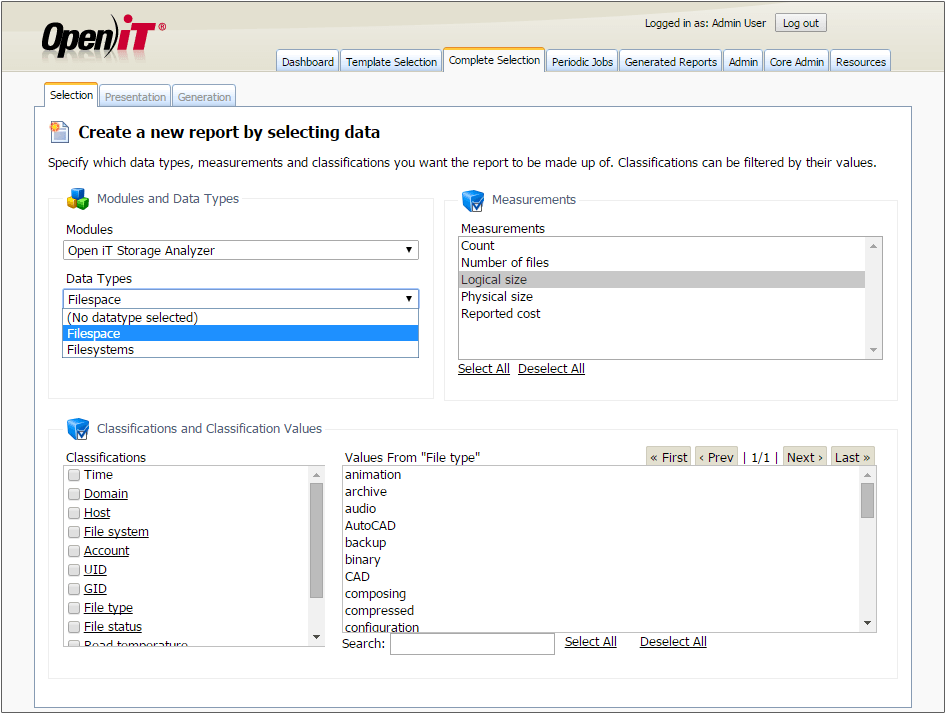 StorageAnalyzer in Reporting Server
Enable Chargeback Accounting for the Use of Storage Resources
Generate IT audit reports to easily assign the cost of storage resource usage to user groups, projects, business units or even global sites.
StorageAnalyzer's flexible reports on storage utilization trends provide useful information that helps IT administrators optimize storage assets.
File Space Total - This report represents of the file storage showing the free and used space of the storage.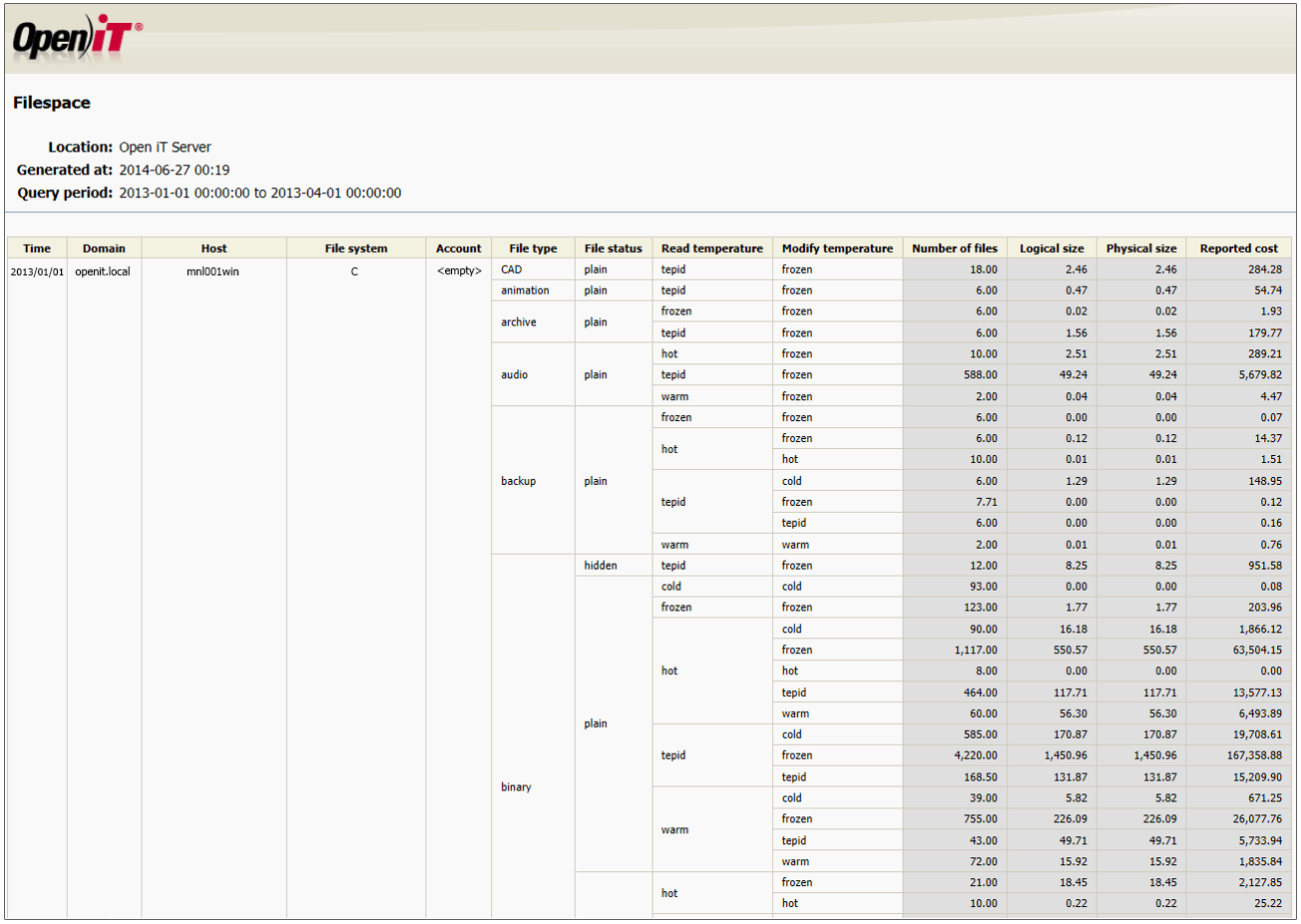 Disk Space per User - This report shows the logical size consumed by the users' files categorized by file age.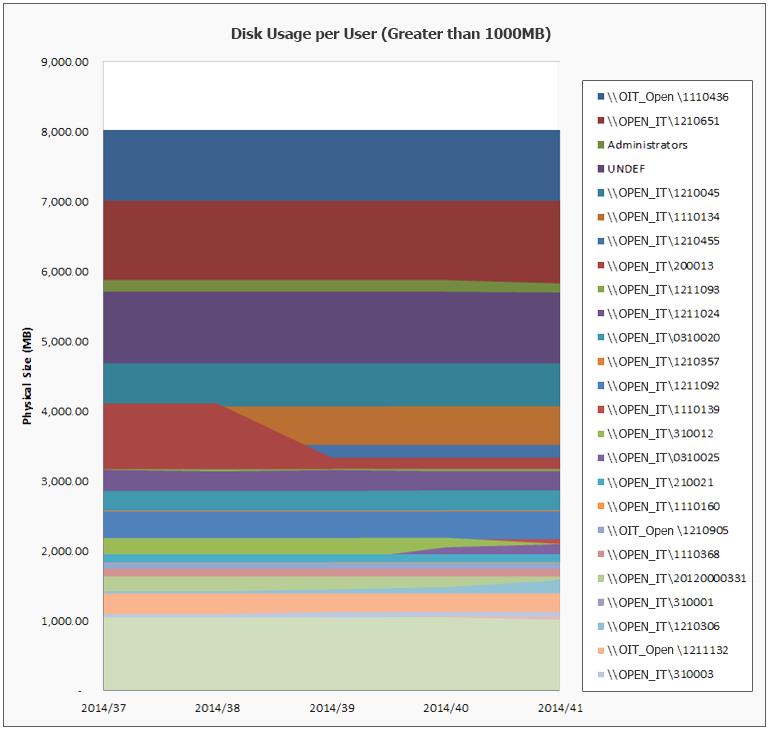 Used Disk Space vs File Age - This report shows the physical size and type of files stored in every host.