If you are working in the field of software asset management (SAM), you might have heard of these two words – FlexLM and FlexNet.
What is FlexLM?
Is FlexNet the same as FlexLM?
In this article, we will explore the answers to these questions and more.
Then, we will talk about how to maintain the availability of licenses through FlexNet Publisher's failover protection methods and Open iT's license optimization best practices.
I. What is FlexLM? What is FlexNet? – Let's start with some of the frequently asked questions
What is FlexLM?
FlexLM is a widely known software license manager as it can support a broad range of applications.
Some examples of applications managed by FlexLM are ArcGis, Matlab, AutoCAD, and Navisworks Simulate. This licensing solution can be used across various platforms, including Windows, Linux/Unix, Mac OS, and Java Standard Edition.
It also supports different licensing models such as node-locked, named-user, floating, subscription-based, and pay-per-use licenses, among others.
Who owns FlexLM?
FlexLM is owned by Flexera Software.
Is FlexLM the same as FlexNet Publisher?
FlexLM is the old product name of FlexNet Publisher. FlexLM was launched in 1988. After its producer, Globetrotter, was acquired by Macrovision, the latter renamed FlexLM to what it is known today.
What is FlexNet Licensing?
FlexNet Licensing is another term that you might come across as you go deeper into this topic.
It is one of Flexera's software and IoT Monetization products. Some of its benefits include compliance management for various licensing models as well as support for product configurations.
FlexNet Publisher is one of the FlexNet Licensing Technologies, which also includes FlexNet Embedded and Cloud Monetization API.
Where is FlexNet Publisher installed?
FlexNet Publisher can work as a standalone, or you can use it with FlexNet Operations, which is a web-based application. It can be installed on the desktop or at the server level.
What are the main components of a FlexNet Publisher License Server?
The main components are the license server manager (lmadmin or lmgrd); license file that contains information such as license server names, vendor data as well as feature information, vendor daemon, debug and report logs; option files that are used to set parameters on how licenses operate; and trusted storage.
II. FlexNet Publisher's failover protection and Open iT's license optimization
In order to ensure that corporate goals are achieved on time, employees should have continuous access to critical applications.
However, there are times when license denials may occur due to insufficient licenses or a faulty license server. If you are using FlexNet Publisher, there are two methods to ensure protection in case one of your servers goes down: redundancy using the license search path and the three-server redundancy.
You can also take this a step further by optimizing your licenses using Open iT's software license management solution.
A. FlexNet Publisher's Failover Protection
License server failure is not an uncommon situation. This is why companies configure multiple servers so that a secondary server will be operating in case the primary server goes down.
Redundancy using the license search path – this method is available for file-based and trusted storage-based licensing.
Here, each license server has a portion of the total available licenses. The license search path contains information about these license servers.
When a user attempts to get a license, it will go through that list in order until a license is secured or it finishes the entire list. However, the downside is once a license is secured from a specific server, it will continue to send requests to that particular server.
When that server runs out of its portion of licenses, the application will not consider the licenses in the other servers unless configured for this purpose.
Three-server redundancy – this method is only available for file-based licensing. One of the license servers is designated as the primary server; if that server fails, the second server will be deemed as the "master" server.
Therefore, for this method to work, there must be a minimum of two running servers since the third server will never be designated as a master. "Heartbeats" are sent at regular intervals to check the connection.
Therefore, it is important to use stable servers or avoid using a network with heavy traffic.
In addition, you cannot start vendor daemons from different vendors at the same time since the license server manager in this setup can only manage one vendor daemon and one version of the license file across the three license servers.
B. Open iT Software License Management Solution
If you are not having system problems on your license server, maybe it's time to turn the attention to your software license usage.
By analyzing historical and real-time trends, you can determine the reason your employee is being denied access to a specific application.
There are cases when the reason is simply due to license shortages. However, there are also cases when denials happen due to poor user behavior.
Remember that time when you decided to check out a license early because you were worried that you wouldn't get access once your co-workers started turning on their workstations?
Now imagine what will happen if everyone does the same thing! Well, if you have a solution that can track down the runtime and active application usage, you can determine the threshold, set policies and priority scheduling, send alerts when that threshold is reached, and optimize the availability of that license through automatic harvesting.
Here is a list of videos that will give you a preview of the different reports you can use to interpret that collected data.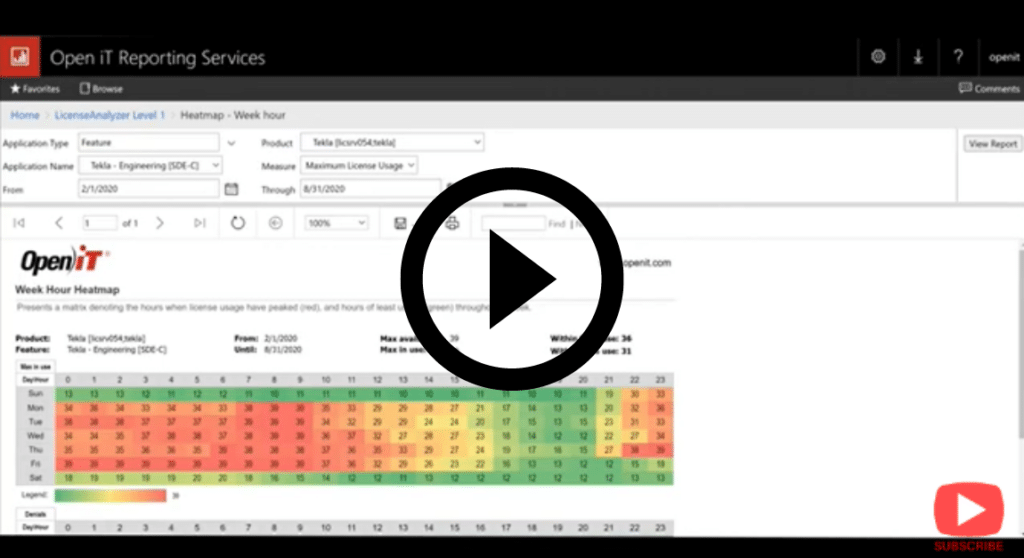 III. Conclusion
A lot of companies use FlexNet Publisher as their primary licensing solution.
It is important to learn the different ways you can maintain the availability of your licenses so you can optimize the applications managed by this license manager.
If you're interested in reducing the number of license denials and improving the availability of your licenses using software license management, contact us today!