"If you think compliance is expensive – try noncompliance." – Paul McNutty, Former US Deputy Attorney General
Purchasing and managing engineering software are becoming more and more complicated. While a few software vendors (ISVs) may use simple licenses and pricing, large enterprise ISVs use complex software agreements to define their million-dollar deals. And the more complicated your software agreements are, the more susceptible you are to non-compliance during vendor audits.
The 2018 Software Piracy Statistics by Revulytics indicates that the commercial value of unlicensed software in North America and Western Europe is at $19B. Among the Fortune 100 companies in the US, 75% use unlicensed software. These astounding statistics pushes software vendors to conduct more and more audits and collect staggering amounts of fines from organizations that they find to be non-compliant.
And as the probability of an audit for midsize to large organizations increases by 20% each year, the Software Alliance (BSA) claims that they catch an organization out of compliance every working day. Your organization's license agreements could be their next "license of interest".
So, what should you do to mitigate the risks of non-compliance during vendor audits? Here are seven steps that could help save your organization from paying hefty fines.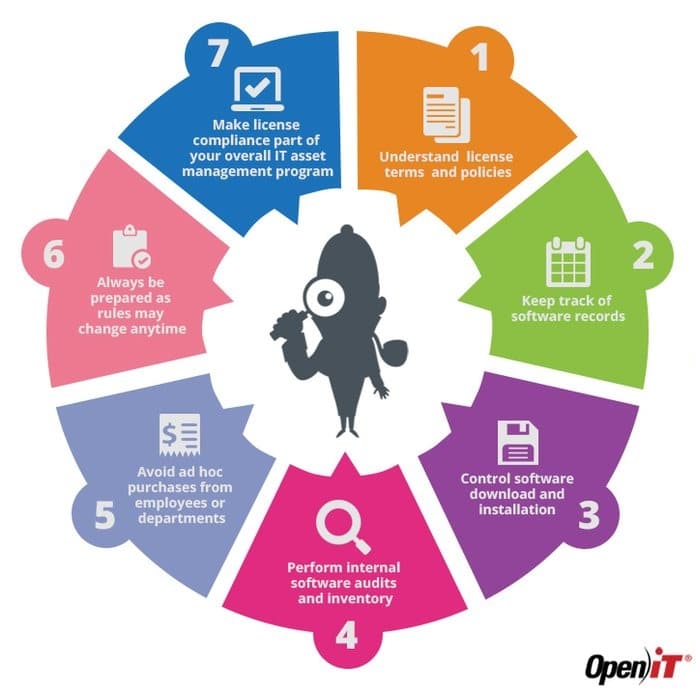 1. Understand License Terms and Policies
Organizations do not actually own the software they use; they only purchase the rights to use the software, which depends on the stipulations in the software agreement. Therefore, your organization is legally bound by contractual obligations and restrictions within your software agreement.
Most organizations employ a combination of different licensing models, which further complicates the agreement. Therefore, to stay compliant, it is imperative that you fully understand your license terms and policies. Likewise, effective engineering software management tools can help reduce this risk by automatically keeping tabs on your license usage.
2. Keep Track of Software Records
Do not neglect record keeping. Keep track of your software contracts, licenses, and inventory of devices that are using the licenses. It would be best to keep them updated as software usage increases in magnitude and complexity. If you are audited, you may be asked to produce these records to show if you are in compliance with the software agreement. Without documentation, it would be difficult to prove you were in compliance.
Manual tracking might prove to be difficult, especially for complex engineering software environments. Powerful software usage metering and monitoring tools can help you keep track of your actual license usage from an enterprise-wide overview down to the fine details. Furthermore, engineering software management tools with advanced usage analytics and reporting capabilities can help simplify your complex engineering software environment.
3. Control Software Download and Installation
If there are unauthorized software downloads by employees, compliance becomes harder to maintain. If people are free to install any software they want, it may become more difficult for you to avoid compliance issues. Software piracy may be happening under your nose, and it may be too late before you realize it. Unauthorized software installations can be controlled and avoided by establishing and enforcing software usage policies for your company.
4. Perform Internal Software Audits and Inventory
Implement periodic internal audits across your organization to catch possible compliance issues before they become a problem. Get a visual of your license inventory and always be ready for vendor audits so that there would be no compliance surprises.
The internal audit report should include:
an inventory of all your software licenses;̵
your compliance with licensing agreements based on your inventory and actual usage.
With this report, you may be able to identify discrepancies and anomalies with regard to your purchased licenses and actual usage. Some tools can perform these audits continuously and automatically. A few are able to send alerts when licenses are about to expire or when possible anomalies in license usage are detected.
5. Avoid Ad Hoc Purchases from Employees or Departments
Ad hoc purchases done by employees in different departments will make your planning for software purchases and controlling of expenses more difficult. Ordering software based solely on what end users think they need can be costly. Without proper forecasting and planning, you could be spending more than you would if you have a thorough understanding of your actual software usage. With accurate information on your true software usage and a reliable forecast of future licensing needs, you will have a better position in negotiating a favorable software agreement with your vendor, thus giving you potential savings from purchasing additional licenses that you do not actually need.
6. Always Be Prepared as Rules May Change Any Time
Vendors change their licensing models as they see fit. And it can be quite difficult to keep up with the changing rules and regulations. But if your organization has a central software license repository and a comprehensive tracking system to keep up with all licenses, responding to these changes will be easier. A comprehensive knowledge of your current licensing position is key. If you are caught off-guard, then you may find your organization facing costly audit fines. An effective software usage metering and monitoring tool can save you from this stress.
7. Make License Compliance Part of Your Overall IT Asset Management Program
This is a must. Software compliance should be an integral part of your IT asset management program. An effective engineering software management system should be implemented immediately to ensure on-going license compliance. Do not wait for the software audit to begin before employing engineering software management. With the right tools, you will always be prepared for any software vendor audits. And you will always be in control of your engineering software assets.
Conclusion
Ensuring your organization's compliance with software license agreements does not need to be difficult and complicated. You just need the right tools that will provide you with accurate information on your true license usage and will keep you updated with your current license inventory. With an effective system in place, you can be assured that you will stay compliant all the time.
Learn more about License Compliance. Take a guided tour of our solutions and services.