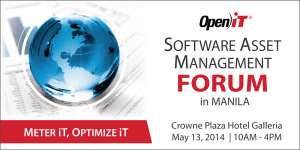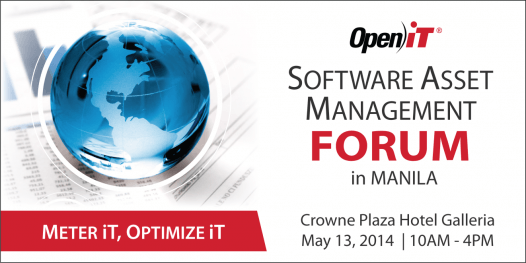 Open iT's 1st Software Asset Management Forum to be held at the Crowne Plaza Hotel Galleria, Quezon City, Philippines on the 13th of May 2014 is an event that is dedicated to bring together the IT leaders from the biggest companies in the Philippines.
This exclusive event will be highlighted by a discussion on "Gaining Competitive Advantage with SAM," which will offer a new focus from research on the challenges of managing IT assets and optimizing costs in a sustainable way. The forum will be facilitated by Open iT executives from the United States, together with exceptional senior-level executives from the company's clientele and partners in the Philippines.
Are you looking for a new opportunity to deliver more solutions and shape your organization for exceptional profitability? Join this exclusive event and learn more on how you can advance your own business with Open iT.