Posted on June 14, 2019
Open iT, a software solution for metering, analyzing, and optimizing the usage of critical engineering software assets, releases a new version of its software suite.
Open iT® 2019 Software Suite offers new products, new features and functionalities, and further improvements on previous versions, which not only enhances the user experience, but also improves system performance. It offers a new and more simplified packaging, a new tool for forecasting and anomaly detection, CLIMS, and more!
The highlights of Open iT 2019 include:
LicenseAnalyzer2019 – with expanded capabilities, Open iT LicenseAnalyzer2019 now includes over 50 features and functionalities, offered in three (3) levels, where each level extends and builds on the functionalities of the preceding level.

Level 1: Runtime Usage – Usage data is collected from a wide range of sources to meter the elapsed time in which the licenses are checked out or the applications are running.
Level 2: True Active Usage – This level includes all the features and functionalities of Level 1, and it also meters the activity levels of all applications (standalone or server-based, Cloud or on-premise) to determine whether the applications are truly being actively used.
Level 3: Managed Usage – This level expands the capabilities of Levels 1 and 2 to provide better control in managing license resources by uncovering and terminating or suspending applications that are not in active use.

LicensePredictor – an advanced forecasting and anomaly detection tool that uses statistical techniques, data mining, predictive modelling, and machine learning in analyzing current historical usage data to predict future trends in license usage and detect possible anomalies in the data.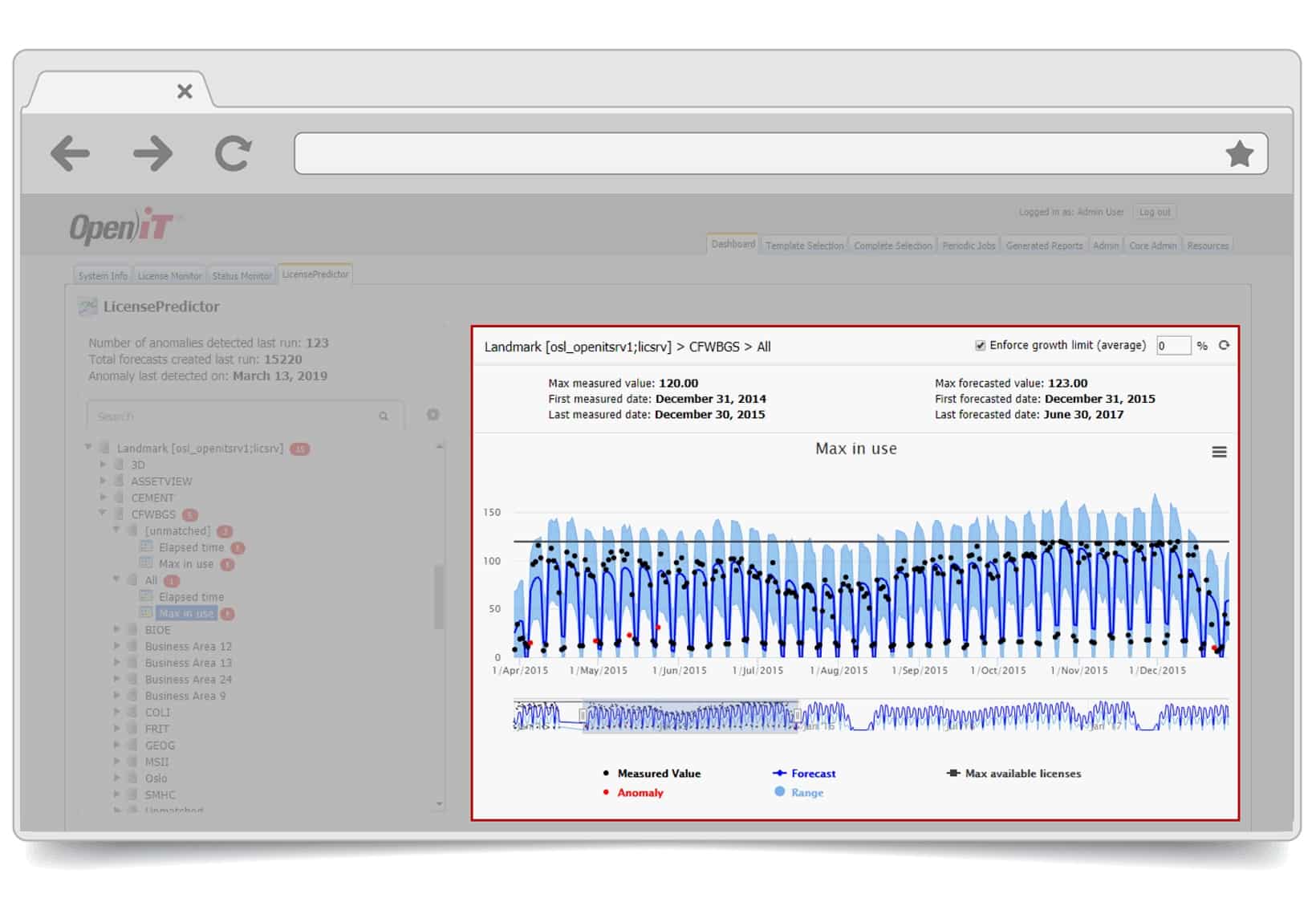 Discovery Tool – scans the network to detect services used by license managers and other applications and locate where those services are being executed.


Centralized License Integration and Management System (CLIMS) – an advanced system that provides administrators a centralized portal for administration and management of license files and license servers. The portal allows administrators to manage and control all license servers across the enterprise in just one single interface.
Web App Tracking Applications running in major web browsers are now supported. Supported web browsers include Google Chrome, Mozilla Firefox, and Microsoft Internet Explorer or Edge.
New Features for Core Server – includes the new client module activation, setting available licenses of Features, filtering of vendor daemon for License Monitor report, support for Power BI Data Source, improved performance, processing, and memory consumption, and an updated charting library (Highcharts) for Core Reporter (formerly Reporting Server).
New Features for Analysis Server – has a newly redesigned user interface, improved License Monitor Portal, improved Dashboard, feature labeling, user field renaming, improved SSRS templates selection, and optimized processing through partitioning.


Download our release notes and learn more about the detailed improvements and new features of this new version.

Open iT is committed to improving its products and services to better assist its customers in monitoring, analyzing and optimizing engineering software assets and other IT resources. Get a guided tour of our offerings to find out which Open iT software solutions best fit your organization's needs!