Open iT rolled out a new and improved version of LicenseAnalyzer. Take a look at the latest features listed below!
Comprehensive support for SaaS
LicenseAnalyzer seamlessly integrates with vendor portals or APIs, gathering ownership, assignment details, and usage data from application hosts and license servers for in-depth reports. Building on its support for Autodesk Cloud, Balsamiq, SolidWorks, CloudWorx, and Adobe Creative Cloud, LicenseAnalyzer now bolsters its reporting suite for Bluebeam and Bentley Cloud.
Bluebeam Integration
Open iT offers advanced usage reporting for Bluebeam, leveraging API connections to the Bluebeam Portal. This includes both real-time and historical data insights. Bluebeam support is compatible with Revu 20 and below only.
Real-time Data: Gathered using periodic sampling, viewable via the License Monitor.
Historical Data: Sourced from either sampling methods or from archived log collections.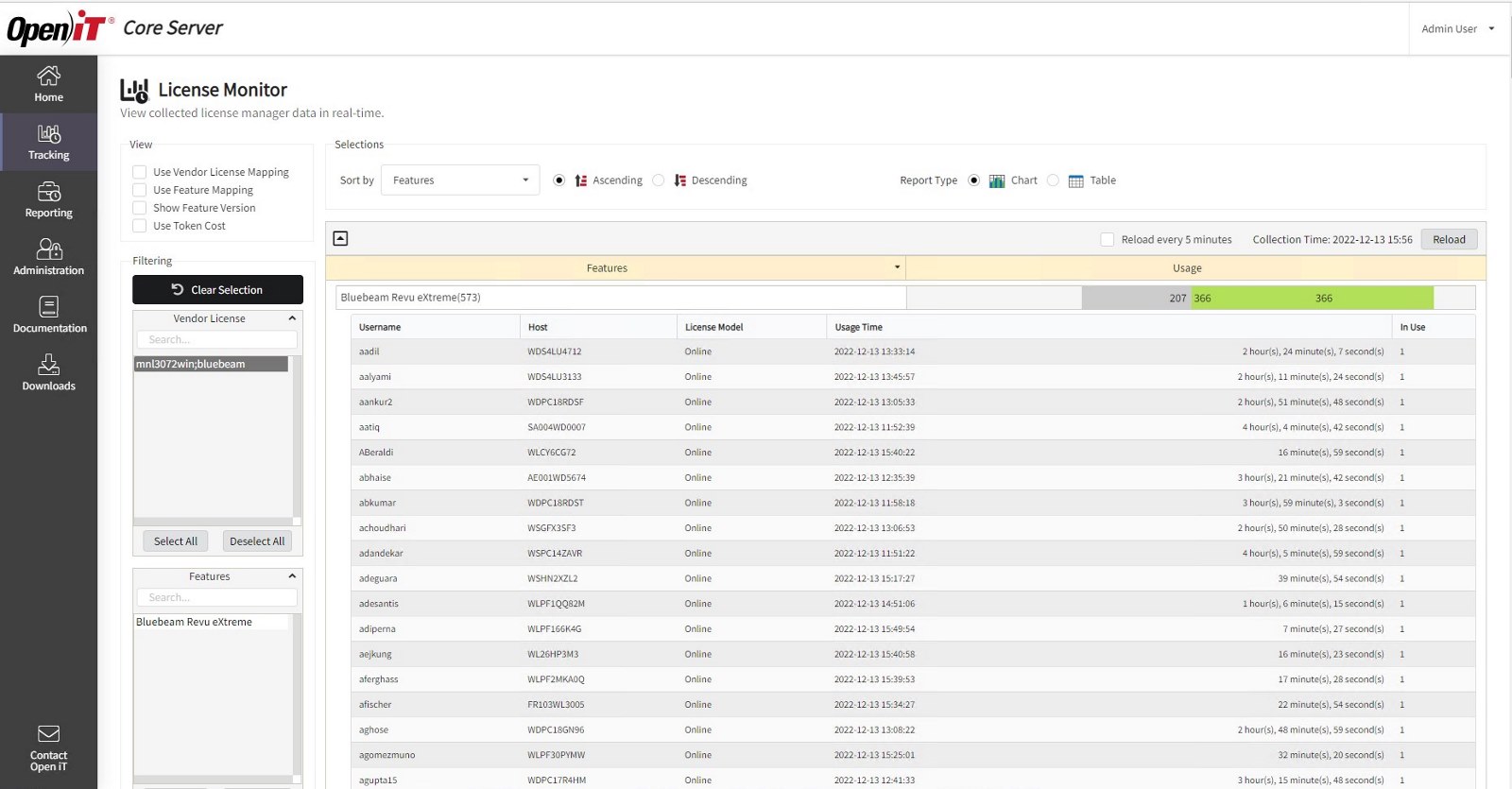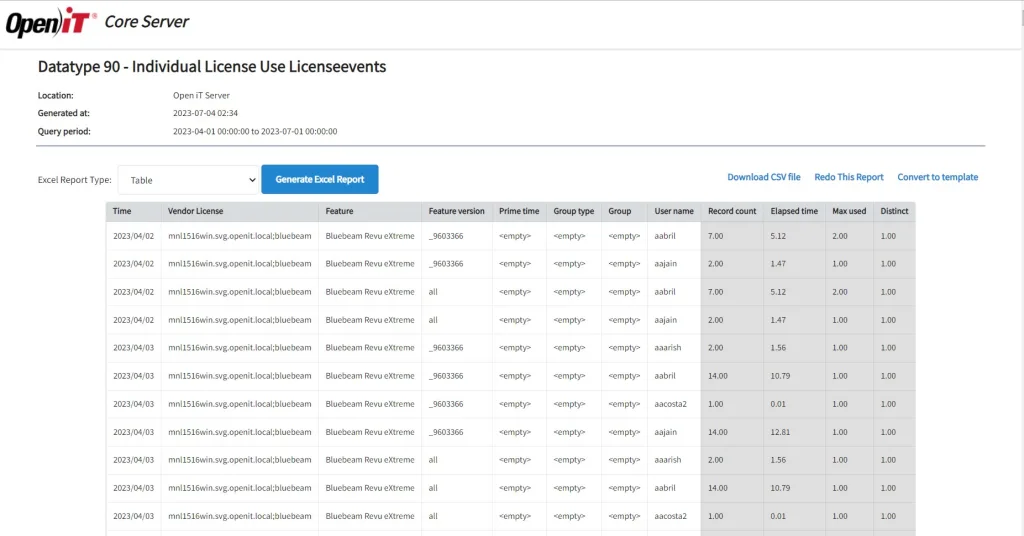 Support for Bentley Cloud Real-Time Usage Reporting
Open iT facilitates Bentley Cloud usage insights by polling data from the Bentley Portal via API. Real-time usage is actively tracked using the License Monitor.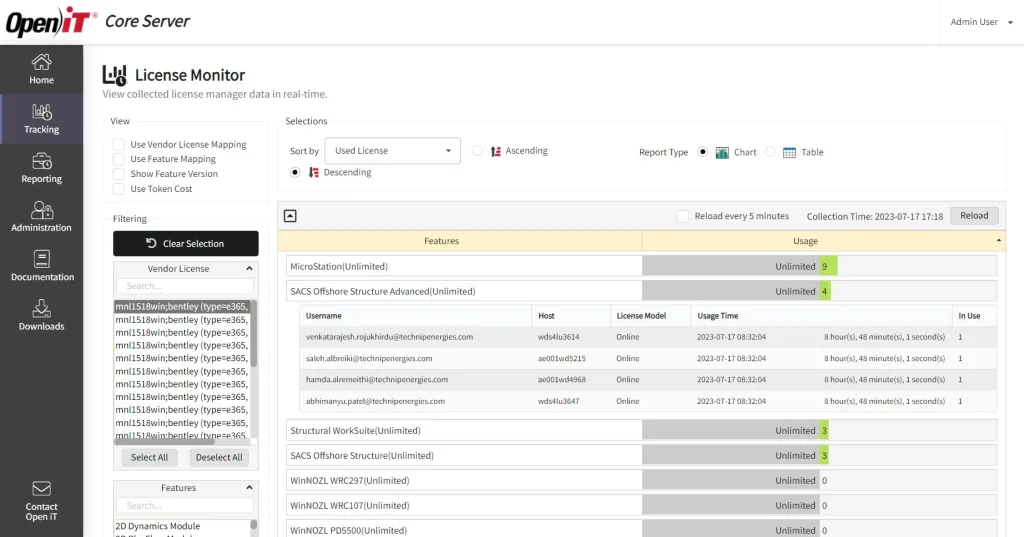 LicenseAnalyzer Level 2 and 3 Improvements
Creation of Application Crash Reports
On unexpected application termination during resumption, a crash report is generated.
Provides clarity on incident causes.
Available exclusively for Windows.
Force-Terminate and Force-Resume Option
Introduced in Level 3, the 'force-terminate' attribute determines the suspension duration of an application without triggering timeouts.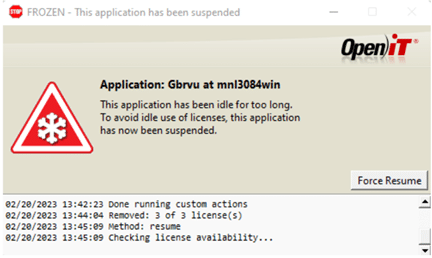 Free License Requirement
'License-requirement-offset' added in Level 3 handles race conditions during application resumption, ensuring applications don't resume without available licenses.

Custom-Action Script
Custom scripts, like the 'save scripts', are tailored for Petrel, safeguarding progress before the application is optimized by the disabler.

New supported license managers
We continuously enhance the list of license managers Open iT meters and optimizes. In this release, we have incorporated the following license managers into the list:
TASKING License Manager
Olicense License Manager
Siemens Automation License Manager
What's new in CLIMS
Open iT Centralized License Integration and Management System (CLIMS) allows administrators to manage license managers on a single interface, providing mechanism for remote stop and start of license server and license file editing with version control among others.
In this update, we have included the following features:
Add audit trail: Administrators can see records of events and changes
Support for the Revoke functionality for LM-X license manager
Management of SPLM, MathLM, and Sentinel LDK License Managers (on-prem)
Denial and License Available alerts of FlexNet, DSLS, and RepriseLM
Semantic License Comparison for FlexNet.
Connect with our LicenseAnalyzer specialists to delve deeper into the latest feature enhancements here!