Last June 22 to 24, 2022, Open iT Japan attended the Design Engineering & Manufacturing Solutions (DMS) Expo 2022, which is one of the nine shows under Manufacturing World Japan. Held at Tokyo Big Sight, the DMS exhibition connected customers from the manufacturing industry with companies offering IT solutions such as CAD/CAE/PLM software and digital transformation platforms.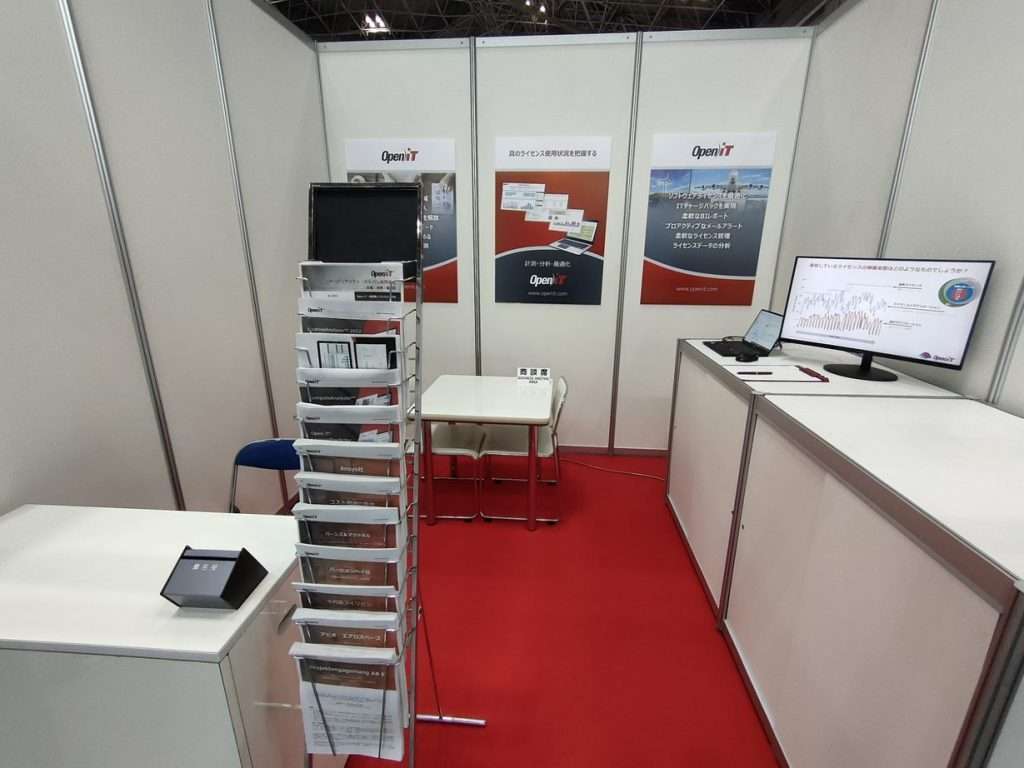 The manufacturing industry is one of the largest industries that support the Japanese economy. According to the Ministry of Economy, Trade, and Industry, the Manufacturing Industry contributed 20% to the 2019 GDP (Source: Website of the Ministry of Economy, Trade, and Industry of Japan 009_02_00.pdf (meti.go.jp)). METI also forecasts a continuous increase in the production from this industry (Source: Website of the Ministry of Economy, Trade, and Industry of Japan https://www.meti.go.jp/statistics/tyo/yosoku/result-1.html).
The continuous activity of the manufacturing industry is made possible by the combination of efficient business processes, human capital, equipment, and software. CAD, CAE CAM PLM – these are some of the software heavily used in the manufacturing industry. To keep up with consumer demand and ensure that the goods are developed on schedule, it is important that developers and designers have uninterrupted access to these critical applications. However, continuously adding licenses is not a wise business decision as engineering licenses come with a hefty price tag. More expensive than normal office applications, some engineering software costs millions of yen per license. This is where IT asset management (ITAM) comes in.
For this blog, we sat down with Koichi Ohashi, the president of Open iT Japan GK, to gain insights on the current situation of ITAM and software license management (SLM) in Japan, the challenges that can be solved by software license management, and how Open iT Japan can help support the manufacturing industry. He will also share important takeaways from DMS Japan 2022.
What is the current situation of IT asset management or software license management in Japan?


In recent years, IT asset management for business software has been promoted in various media, and it has raised the level of awareness among customers. On the other hand, a lot of people are unaware of the existence of IT asset management solutions for engineering software. In addition, the majority of the people who are using this product stop at the aggregation of software license usage; there are only a few cases where they use the product to try and solve business challenges.


What are the business challenges that can be solved by software license management?


The first is cost reduction. Although the term "cost reduction" does not have a positive impression in Japan, it is one of the most important issues faced by corporate management that is directly connected to profit increase. In the Japanese manufacturing industry, the average operating profit ratio is around 5%. Therefore, to increase profit by 10 million yen, you need to increase sales by 200 million yen. However, you can also get that same profit by reducing costs by 10 million yen. Along with improving the customer's KPI, we want to strengthen their investment capability and help them grow.

Next is maintaining and improving business productivity by building an environment where design and development engineers can constantly access engineering software. This might seem contradictory to cost reduction, but it is possible to achieve both.


What sets Open iT Japan apart from other IT asset management companies? What can customers expect from Open iT Japan?

It might seem like a cliché, but I think it's having a thorough understanding of the customer's situation, namely their challenges and what they want to do. Our company, Open iT, Inc., has been in the industry for more than 20 years focusing on IT asset management for engineering software. The knowledge and experience we have accumulated during this period are continuously reflected in our products, and we offer suggestions on how to use these products in a way that matches the customer's environment.


Open iT attended DMS Japan for 3 days as an exhibitor. What were your takeaways from the event?


Open iT Japan was established last summer, and so this was the first time our company exhibited at the DMS Tokyo event. Despite the lingering effects of the coronavirus, more than 1,100 companies exhibited at the event, and it was attended by more than 50,000 visitors. I could feel the enthusiasm held by the customers towards their work as they eagerly asked questions at each booth.

There were a lot of exhibitors of CAD and CAE software around our booth, but only a few had a management solution like ours. However, we also received a lot of visitors to our booth, and because of that, I think we were able to contribute a little to raise the awareness of IT asset management solutions. We will use this year's DMS as an opportunity to further introduce and present our solutions to our customers.

Learn how Open iT Japan GK can help you track, analyze, and optimize your software license usage to effectively plan your cost reduction, software compliance, and resource planning strategies. Send an e-mail to sales-jpn@openit.com today.