Managing software licenses is not easy. The complexity of finding balance in the number of licenses and their variants, types of agreements and users, providers, and other factors is a real challenge for any organization. The lack of license usage information makes it difficult for business units to justify their investments during budget planning. Similarly, the existence of multiple delivery options, the variation of license models per application, and the frequent introduction of new licensing options by vendors add to the complexity of selecting the most cost-effective option for your organization.
In this webinar, he will share insights and best practices on how companies can manage their software portfolio regardless of any licensing method by discovering usage visibility, consolidation, and optimization of software licenses, which can help increase revenue. By the end of the session, you will learn:
How to ensure the optimal number of licenses and a have central oversight of all assets under a single consolidated analysis interface, allowing greater software management capabilities;
How to analyze usage of IT assets to gain full visibility over the licensing environment;
How to automate asset optimization process to reduce costs and maintenance overheads.
Optimize your engineering software licenses and costs. Improve licenses availability and transition to new licensing models.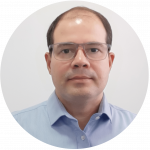 Account and Applications Manager at WG3
Andre Abreu has over 25 years of professional experience in project management in the areas of Software Research and Development; Hardware and Application Specific Integrated Circuits (ASIC), as well as in cloud architectures (Amazon AWS), extending his wealth of knowledge in entrepreneurship, research and development, and government. Having started as an Applications Manager at WG3 in 2020, he began learning about Open iT solutions. Now promoted to Accounts and Applications Manager, Andre actively participates in prospecting new customers, defining leads, improving sales processes, and presenting solutions to customers.  Andre is also a Certified PMI Agile Certified Practitioner (PMI-ACP) and with a Bachelor's Degree in Computer Science from UFPE – Universidade de Pernambuco, Brazil. He also has strong management skills with an MBA focused in Business from EAE – Escuela de Administracion de Empresas, Barcelona – Spain.