For 20 years, Open iT has been providing one-of-a-kind consulting services and solutions to many global companies on metering, analyzing, and optimizing software license usage. Throughout this time, Open iT has developed unique solutions and technologies, eventually becoming the clear leader of usage reporting tools for optimizing engineering, production, and manufacturing IT assets. After an extensive process of experimenting various ways to produce accurate usage reports, the most successful way was uncovered, which is now the key differentiator of the Open iT solution. That is TrueUse™ Technology.
TrueUse™ Technology makes it possible to translate raw usage data into practical business intelligence. It is what makes Open iT software the most secure, fast, and robust usage reporting tool available to small and large enterprises struggling with managing these mission-critical IT resources. It is the result of years of experience in understanding the challenges of delivering true usage information to IT asset managers, CTOs and other executives.
The TrueUse™ Technology was initially thought of as a collection of layouts and secure data architecture combined with performance objectives. However, it is a lot more than that today! Currently, TrueUse™ Technology is the culture of the Open iT business: it is what Open iT does for its customers.
The reporting that can be produced using TrueUse™ Technology is represented in several factors. Those details include:
various usage data collectors;
secure data communication to transfer raw data with minimal internal tampering;
technology with powerful management capabilities to ensure that the raw data survives network and system failures that may corrupt true usage information and reporting;
processes that protect actual raw data through staff changes and turnovers; and
a way to standardize data structure differences from a wide spectrum of sources.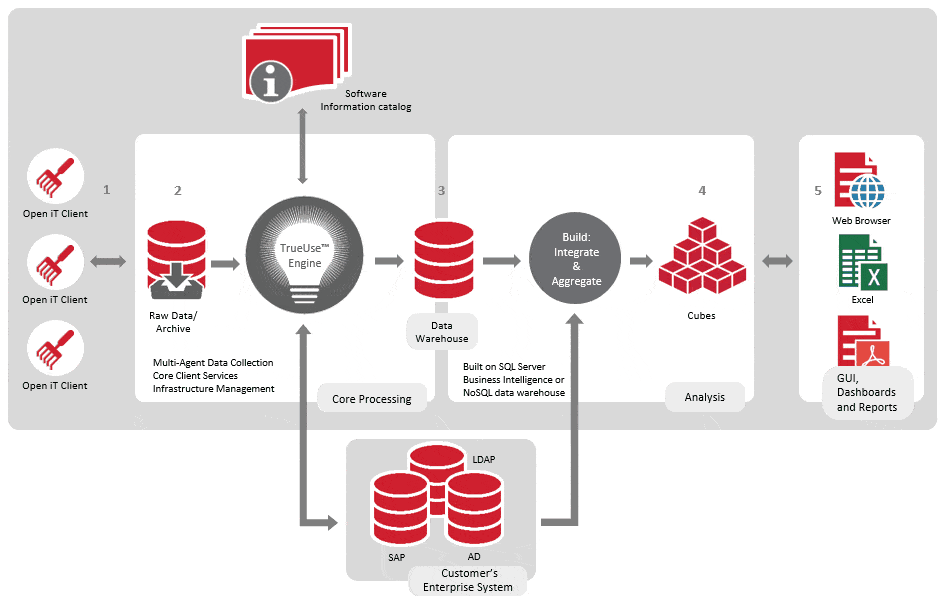 Open iT TrueUse™ Technology essentially is the method to take in raw usage information and preparing it to be displayed for business intelligence units across several departments to make key, practical, and meaningful decisions. It determines how to structure this data to be presented in a wide set of data visualization tools backed by any engineering software management tool provider. Overall, it equips Open iT's rich reporting capabilities so that effective software asset managers see the information they want to see, when they want to see it.
The best way to witness what Open iT TrueUse™ Technology can do to provide accurate usage reports is to schedule a live demonstration today.