Open iT LicenseAnalyzer™ is a software usage metering and optimization tool that provides an enterprise-wide overview of installed software programs managed by most software license managers.
The LicenseAnalyzer module cuts software license cost and reduces usage waste by monitoring software use. See when and by whom licenses are used over time, by location, business unit, or project group, from a total enterprise view down to a single user. Manage the most expensive applications such as MATLAB, CATIA, ANSYS, ESRI and Autodesk software. Simplify software asset management with easy-to-use, web-based monitoring features and flexible reporting capabilities of LicenseAnalyzer.
There are more than 30 supported license managers. Support for other license managers may be added upon request.
Abaqus / Elan™
Aladdin Hardlock (NetHASP)
Altair
Animator
Bentley SELECT (on local servers)
Beta LM
ClearCase
Codemeter (Dongle)
Dassault Systemes License Server (DSLS)
EasyCopy
Encom
Enterprise Architect License Manager
EOD (Exceed onDemand)
Fekete License Manager
FlexNet/FLEXlm
Gemalto License Manager
Green Hills License Manager (GHSlm)
Honeywell ULM License Manager
HQMS
IBM-LUM
Jazz Team Server
LM-X
LS-DYNA
MathLM
OrcaFlex (Orcina License Manager)
Parasoft License Server
Peloton
Reprise License Manager (RLM)
Sentinel HASP (NetHASP)
Sentinel RMS
SlickEdit
SmartPlant
STI License Manager
Vector (Dongle)
Wibukey (Dongle)
Real-time License Monitoring
License Monitor is the web-based monitoring feature of LicenseAnalyzer that provides a complete real-time overview of software usage on all license servers. It monitors current software use with simple point-and-click navigation. Drill down to features and license details that contain information such as the user ID and hostname, and see the last time the license was checked out, how many licenses are checked out, and the duration.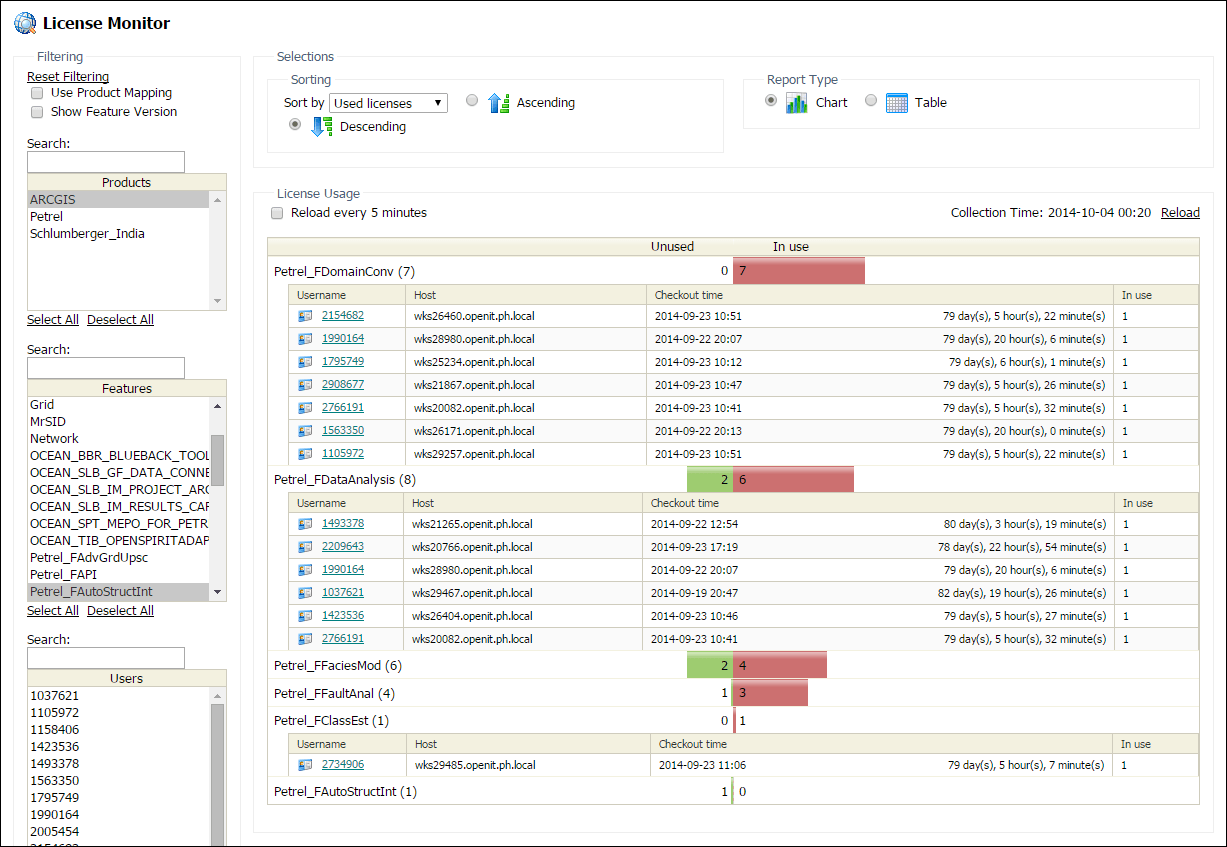 License Monitor in Open iT Reporting Server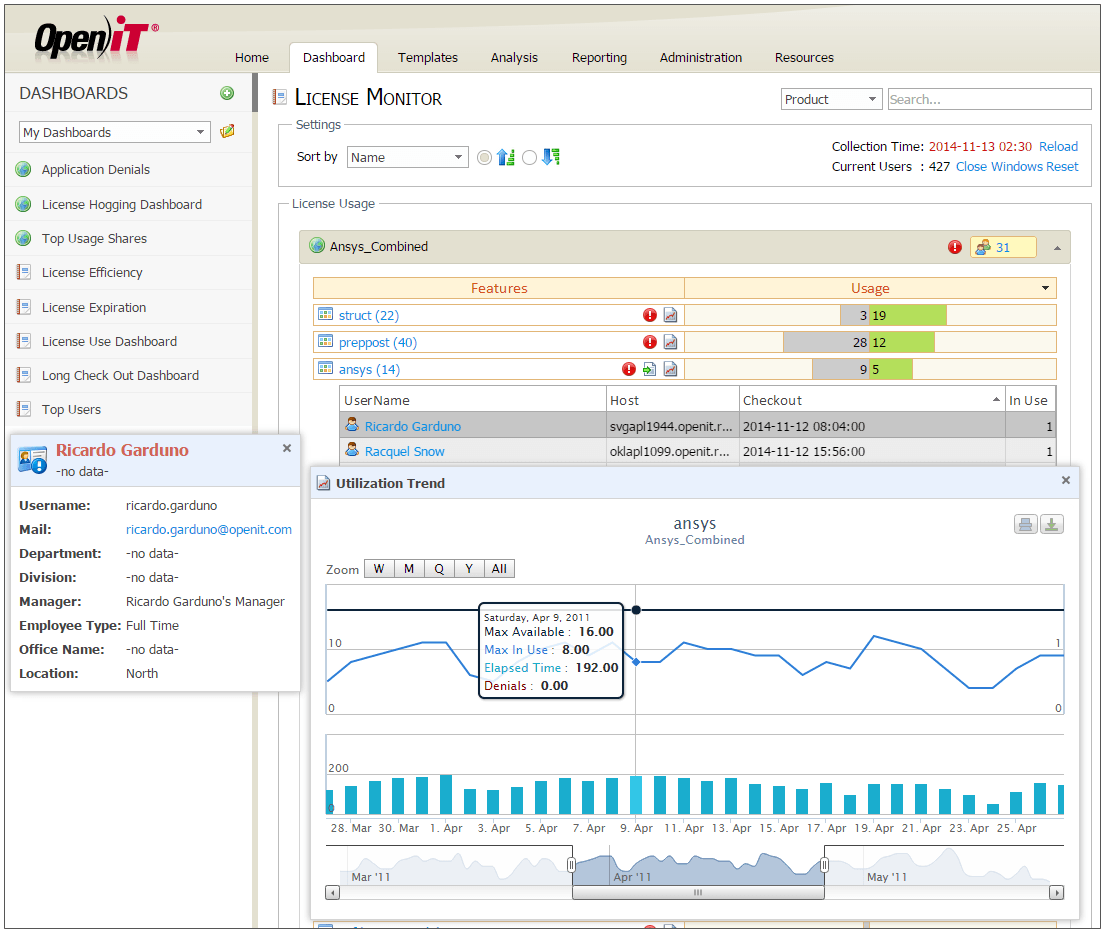 License Monitor Portal in Open iT Analysis Server
Chargeback Accounting for Software Usage
Generate IT audit reports to easily assign the cost of software usage to user groups, projects, business units or even global sites.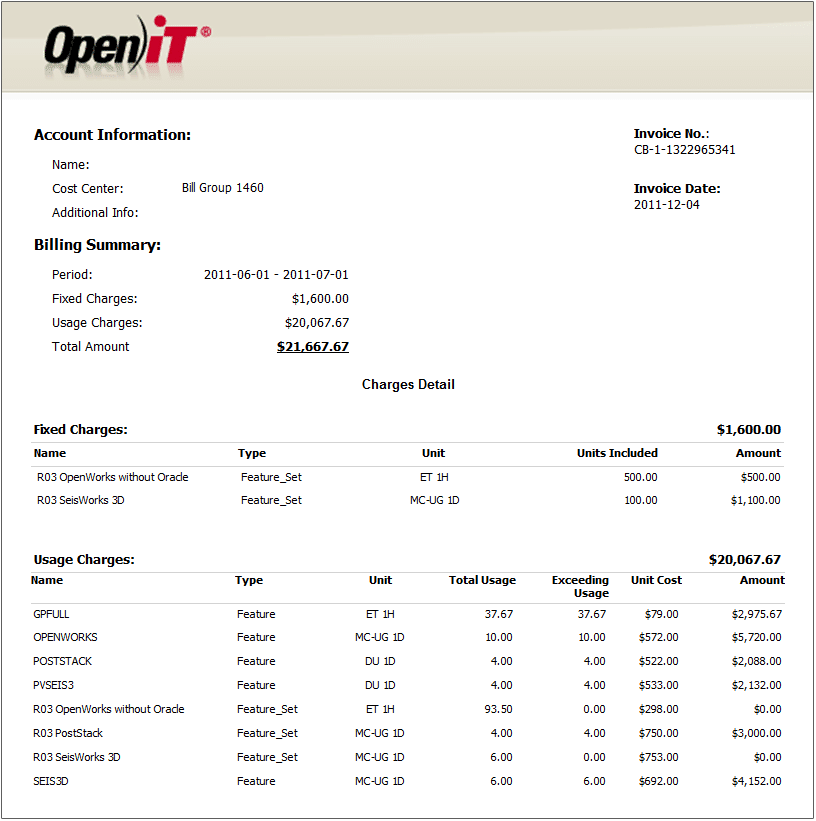 Sample Invoice
Support for Denials
LicenseAnalyzer supports reporting on license denials. These denial reports provide information that management can use for planning on additional license procurement and establishing efficient license purchasing policy. It includes a controlling feature that identifies false denials, which is important in getting the correct information on denials.
Accurate and Reliable Software Usage Reports
Easily create customizable reports on software usage of all your applications. Produce detailed tabular reports with information such as product, application, feature, user name or host name; or choose to present a software usage report visually with easy-to-understand graphs and charts.
LicenseAnalyzer's historical usage reporting allows an understanding of license usage over time with measurements such as maximum, minimum and average use. LicenseAnalyzer reports determine the exact software usage and help discover usage patterns.
Cut surplus licenses, optimize license agreements and improve vendor negotiations with accurate usage date. LicenseAnalyzer's unalterable license metering data ensures that the correct number of licenses stay software compliant.
License Efficiency Chart "Extended" - This gives an overview on how long a certain number of licenses are concurrently checked out. It can help document IT spending based from actual use of licenses and decide at what percentage the IT manager will consider purchasing the next batch of licenses.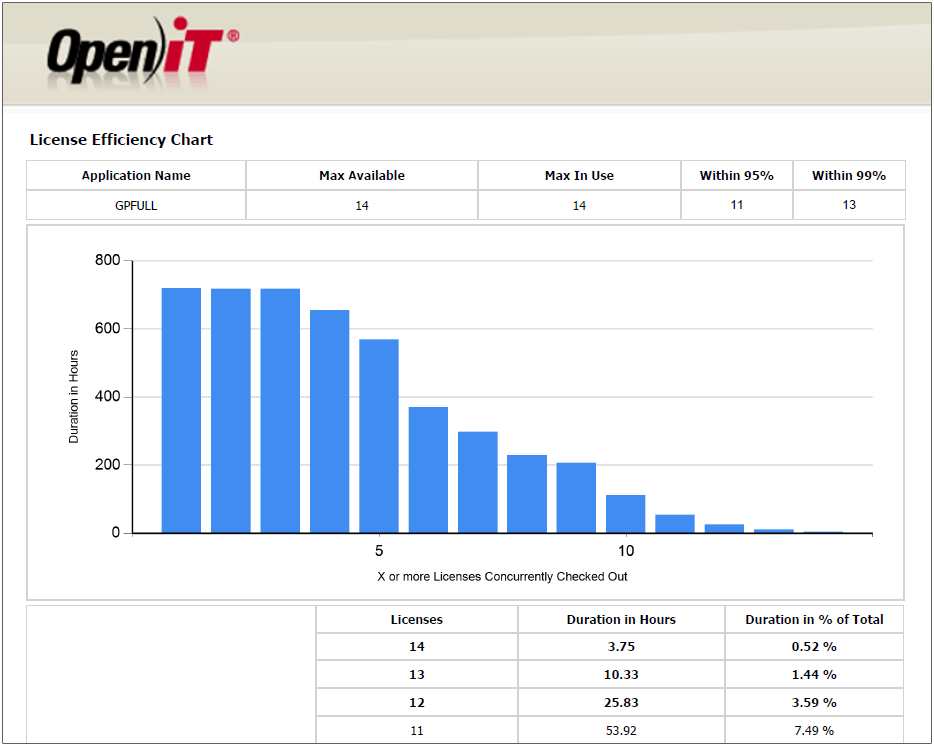 Concurrency - This report shows the true global concurrent license usage for a specific application.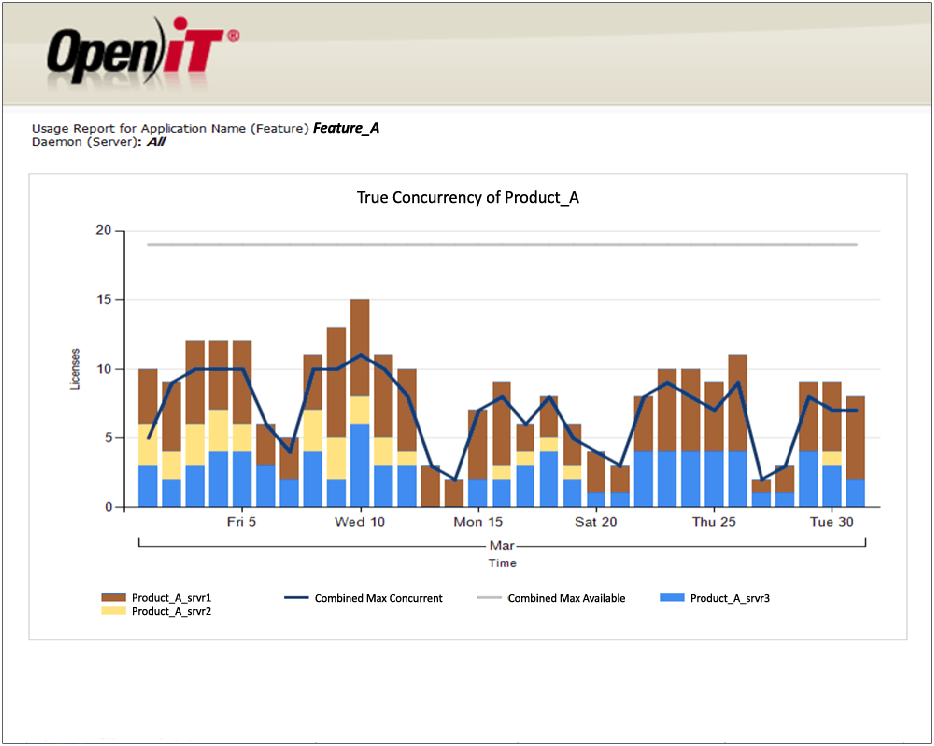 Heatmap - This is a graphical representation of data where the individual values contained in the matrix are presented in colors. It gives an overview of what specific day and hour of the week is the busiest for license use.
Daily Max License Usage - This is a graphical or tabular report showing maximum, minimum and average license usage over time.