Implementing an accurate and fair IT chargeback
Aligning IT with business strategy boils down to how business unit managers make decisions about financing resource distribution, cost revitalization and overall IT expenditure. For instance, some companies have explicit spending restrictions while others don't. How companies distribute IT resources varies widely. And while many companies employ some form of cost allocation, others don't bother at all. However, if the goal is to promote the efficient use of IT resources, then implementing IT chargeback can be of great help in promoting responsible usage of IT resources among employees.
Chargeback is used as a form of cost recovery based on the actual resources that the business units use. It can address concerns about fairness and rationality, and at the same time, may impact the performance assessments of individual managers. As an effective governance mechanism, chargeback exposes the resource requirements of running individual businesses, drives managers to better decision making, and ultimately improves performance of an organization. A better understanding of the IT cost drivers of each business unit empowers business managers to establish mutual responsibility for IT costs and benefits.
IT chargeback can be a very powerful tool for managers to control the increasing IT costs of their organization. However, without proper implementation, IT chargeback mechanisms may be deemed controversial, or sometimes even downright unpalatable, within the organization. If handled poorly, IT chargeback can create misunderstandings between the IT department and its internal customers, or even between the managers who are directly responsible for their respective department budgets and their direct reports who use and consume IT resources, causing IT costs to increase.
To achieve an efficient IT chargeback process, accurate software usage metering must be established to get an overview of how IT assets are being deployed. Facts based on statistics are necessary to plan for future purchases and maintenance costs, and to justify appropriate allocation of costs to different departments. Getting the facts and understanding them is critical for optimal resource planning and efficiency, and ultimately, for profitability. A robust software asset management system is needed by managers seeking to understand the business, implement company technology strategies and best practices, and achieve cost efficiency.
How Open iT supports IT Chargeback
Open iT chargeback process defines various usage or cost factors that generate expenses for the company, such as staff, software, cloud, server and facilities that go with the cost of running the IT infrastructure. Its unique five-level architecture allows companies to collect and filter out irrelevant data before creating invoices which will be then given to certain departments or cost centers in the company.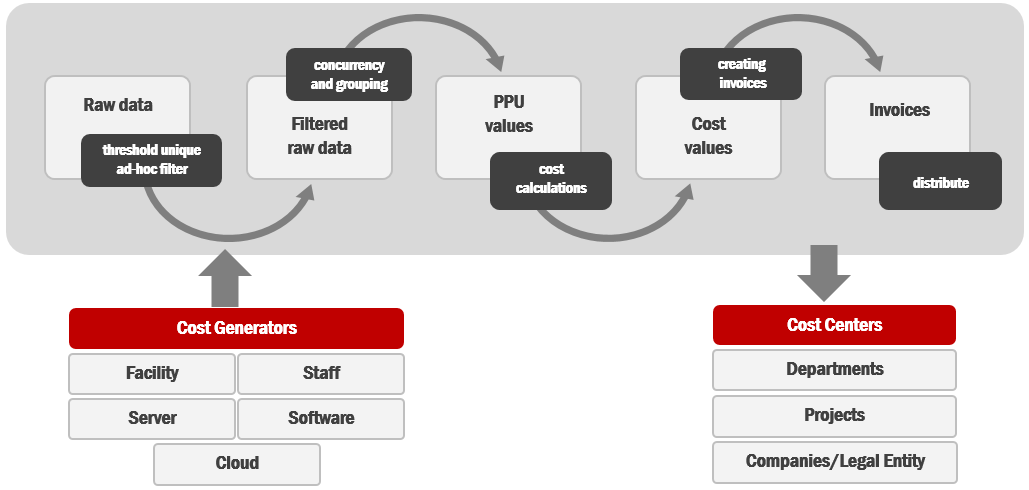 As part of the Open iT software optimization process methodology, IT chargeback fully accounts for IT spending and allocates these costs to help in continually aligning IT resources by:
generating customizable centralized reports that can be fitted with real costs for any combination of individual features, applications, or even executable files;
providing accurate usage data as a basis for internal billing based on actual use, which is necessary to help IT and other business units in communicating and improving cost-awareness; and
establishing a fair cost allocation system allowing companies to easily charge each department or business unit for their use of storage and software resources.
Determining the best allocation model for an organization is key to the successful implementation of IT chargeback. Open iT software optimization process methodology focuses on the essential work of effective IT metering and reporting of cost factors to any usage measurement in order to present real cost figures in the reports. These real cost figures may then be charged back to internal users, groups, departments and business units for the use of software and storage, based on their respective actual usage.
Related Products and Solutions
Manage Software Licenses
Get enterprise-wide accurate license usage reports.
Monitor CPU Usage
Improve system performance.
Enable Data Storage Management
Optimize IT storage assets.
---
How can we help you?
We welcome inquiries about our products and solutions. Talk to our experts so we can help you manage your IT resources as quickly as possible. Let us show you what Open iT can do for your business.