Managing corporate assets and resources, such as engineering software licenses, is just one of the many tasks carried out by senior associates, department heads, and upper-level managers. Thus, the concepts of software license management, software asset management, and IT asset management are not groundbreaking ideas for some companies. However, they still encounter their fair share of challenges in implementing these programs within their organizations. In this blog, we will introduce a better way to manage your engineering software and use MathWorks as an example. 
Understand how the engineering software impacts the organization.
Sometimes we are too focused on specific details rather than analyzing what it means and how it affects the organization. IT leaders and other people who manage software licenses focus mostly on describing what transpired. Rather, they should analyze the cause and present the different impacts it had or would have on the company.  
Let's consider a week-hour heatmap.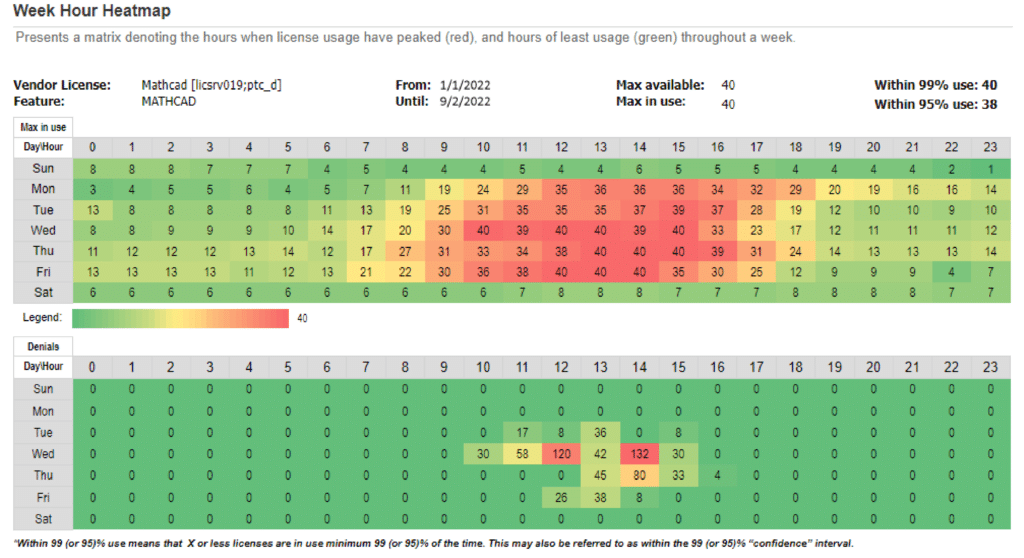 Instead of merely pointing out when the available MathWorks engineering software licenses have been maxed out, try asking: 
What does this software usage pattern tell us about our employees' productivity? How should we organize resources to meet the demand for a license at the busiest time or day of the week?  
Why are the users holding on to the licenses longer than expected? Are there a lot of distractions at work? Are they struggling with the use of the application? Are there insufficient licenses to warrant hoarding access to the software? How should we start addressing these issues?  
Should we start harvesting idle MathWorks licenses? How will it impact the production time?   
Recognize that there is more than one method.
One size does not fit all. Software licensing models and strategies that work for one company or even department do not automatically mean you will get the same results. 
Here we have a MATLAB engineering software license efficiency chart and a simulation of cost savings from transitioning from a concurrent license to an individual license.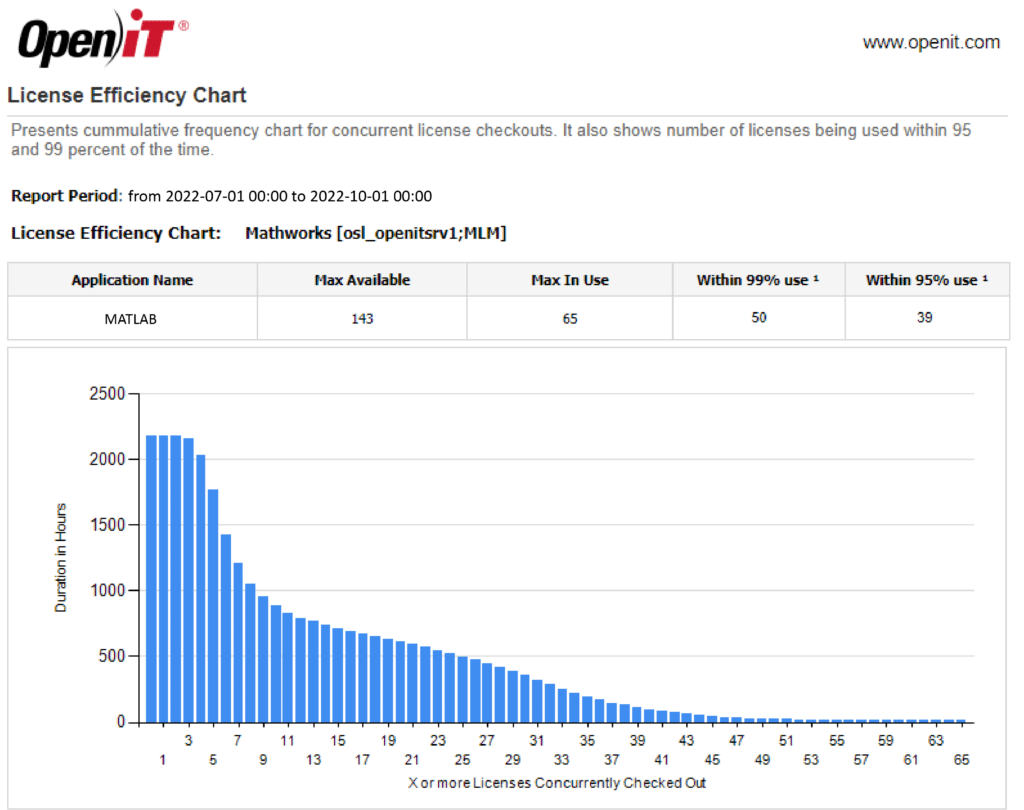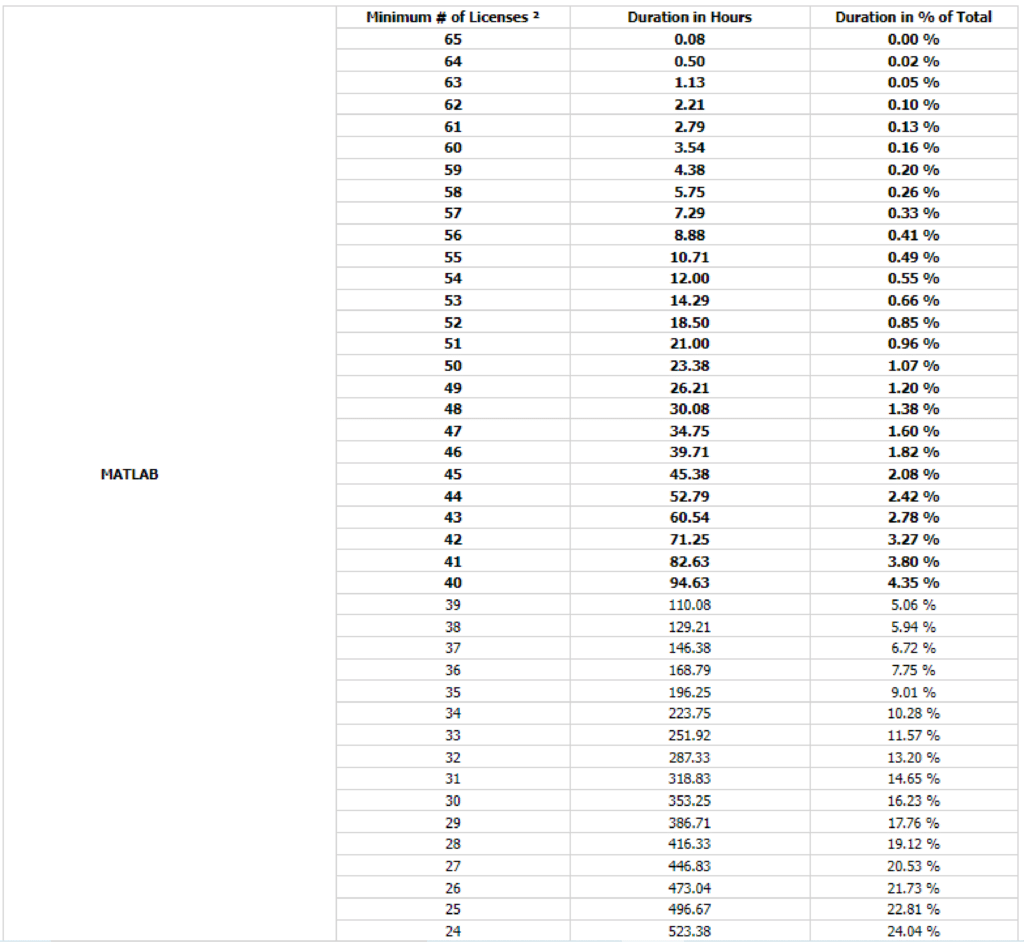 A company that gained a lot of savings by changing to individual licenses has different policies, thresholds, and goals from a company that decided to consolidate license servers, change time zones, or rebalance its portfolio by having a combination of different licensing models.

It's essential to create a list of SMARTER goals and get feedback from your users on the state of the existing allocation of resources and the proposed changes to determine the best course of action for your company's specific needs. This approach not only enables organizations to manage software licenses efficiently, but also optimizes the utilization of software and IT assets.
Set SMARTER goals.
Get better results with goals that are not only specific, measurable, actionable, relevant, and time-bound but also ensure that you have a system in place that allows for regular evaluations & adjustments and rewards employees who contribute to attaining these goals. 
We have listed some questions to help you get started. 
Specific – What result am I expecting to achieve from this decision? What goal do we want to achieve? Who is involved in the attainment of this goal?  
Measurable – What is the quantifiable value of this goal? Can I measure the changes in terms of cost saving or productivity?  
Actionable – Do we have the process, knowledge, and personnel to act on this goal? Have we received consensus from the decision-makers of the company? Do we have a solution that can meter, report, and comprehensively analyze our software usage? Interested in seeing how much impact a good MathWorks software license management program can have in your organization? Connect with a Sales Representative today and ask for Open iT's Analyzer for MathWorks® Licensing solution.  
Relevant – How will the goal contribute to the company's short-term and long-term plans and strategies, e.g., reduction of expenses, sustainability, etc.?  
Time-bound – How long will this project take? When will it start, and when will it end? How long should you collect software usage data? When should you start changing the MathWorks license management? 
Evaluations – How will you review the progress of the project? Which key points should you consider during the analysis of the results?   
Re-Adjustments/Rewards – In cases when the results are less than satisfactory, what alternative actions can you implement to reach your goals? If you see positive changes in the consumption patterns of your MathWorks users, how will you reward your employees?  
The suggestions provided in this article might be familiar to some; however, sometimes, we are too determined to try out novel approaches to software license management or IT asset management in general, and there is a tendency to overlook the fundamentals. Better does not always mean new – sometimes, better comes through improving old practices.
Get in touch with Open iT today to get help in better managing your MathWorks engineering software licenses!
Share it on your social media networks: