No man is an island, entire of itself – a famous quote from author John Donne.
This also applies to an organization that is working its way toward efficiency, scalability, and continuous growth.
A perfect company does not exist; an optimized company does – and a high level of optimization requires the right tools, system, and skilled employees to do the job.
In cases of limited resources, there is an entire market offering Managed Services for different disciplines, including software asset management (SAM), to organizations that need that extra support.
In this blog, we will discuss what is a SAM Managed Service, when you should consider approaching a provider, and an overview of what Open iT Managed Services can offer.
What is a SAM Managed Service?
First, let's briefly talk about Managed Services in general.
When a company subscribes to a managed service, they outsource the administration and management of a specific function, process, or tool.
The managed services provider (MSP) takes on this responsibility continuously and regularly, and the results are assessed against the service level agreement (SLA).
As technology advances, more and more organizations facing challenges in keeping up with the complexity of these new tools turn to MSPs to ensure continuity in pursuing their objectives.
According to Statista, the global market for managed services was already valued at 161.37 billion U.S. dollars in 2021. A report from MarketsandMarkets ™ also forecasts that the market size will grow at a compound annual growth rate of 7.9% from 2021 to 2026.
The scope of the managed services varies as provided by the terms agreed upon by the involved parties as well as the technical requirements of the customer. There are also different components depending on the field or discipline.
In this example, we will focus on software asset management.
A SAM Managed Service is a solution designed to enhance SAM maturity, maximize software investments, supplement the client's existing tools and resources, and reach software license optimization, cost reduction, and IT visibility by leveraging the provider's knowledge capital and equipment.
Gartner published a Magic Quadrant last July 2022 detailing the core components of a SAM managed service provider.
This includes SAM policy and process services, trustworthy estate representation, managed entitlement and use rights analysis, FinOps and cloud license management, license optimization and governance, and an integrated SAM lifecycle delivery.
With research companies forecasting continued growth for both software and IT services, organizations should start looking into their internal processes and see whether there is a need for an MSP to build and optimize their digital infrastructure.
When should you approach a SAM Managed Service Provider?
The best time to approach a SAM Managed Service Provider will depend on these four factors: time, tools, knowledge capital, and consistency of quality. Here are some questions to get you started.
Time
Do we have the time to consistently monitor our SAM and license optimization activities?
Can we identify and troubleshoot occurring issues in a timely manner?
Can we keep up with the latest versions and patches of your software?
Do we have the time to keep track of our license expiration dates across the entire organization?
Do we have the time to go through each software and review if our usage is in accordance with the license agreement?
Tools
Do we have the software and hardware needed to implement our SAM initiatives?
Are we equipped to handle the upscaling and downscaling of operations?
Are we willing to invest the current budget in the purchase and maintenance of servers and workstations, and other equipment needed to accomplish our goals?
Knowledge Capital
Do we have employees who are knowledgeable about the latest SAM practices and changes in the available licensing models and are familiar with the installation, configuration, and administration of SAM tools?
Can they analyze and translate the data into reports that generate business value?
Are the current employees willing to be retrained and assigned tasks outside their current scope of work?
Consistency of Quality
Do we have a plan in case of network outages, loss of data, and equipment malfunctions, as well as the resources to implement this?
Do we have a plan that enables us to continuously monitor the progress of our initiatives?
Open iT Managed Services as a SAM Managed Service Provider
"Open iT's solution, in conjunction with their professional services group, has allowed us to manage complex licensing models, like Hexagon ISL, in order to continue to optimize license consumption."

Michael Allen​, Engineering Technology Manager at Burns & McDonnell​
The Open iT Managed Services provides organizations with the support they need to effectively implement their software asset management (SAM) practices and maximize the use of Open iT products.
With over 20 years of experience, we help companies looking to further optimize the usage of their engineering software licenses as well as business applications.
Open iT was also named by Gartner in their 2022 Market Guide for Software Asset Management Tools as a Representative Vendor in SAM tools under two categories: SAP and Engineering and Specialty software.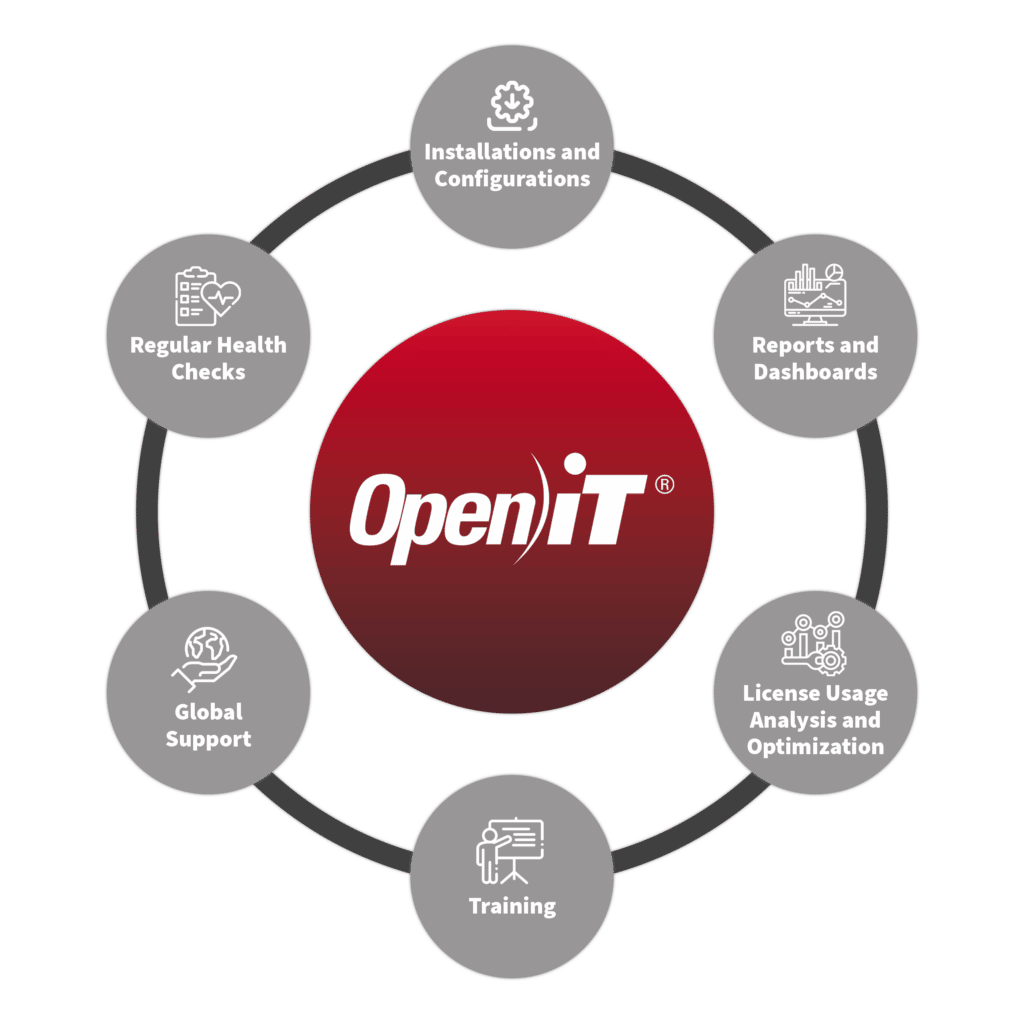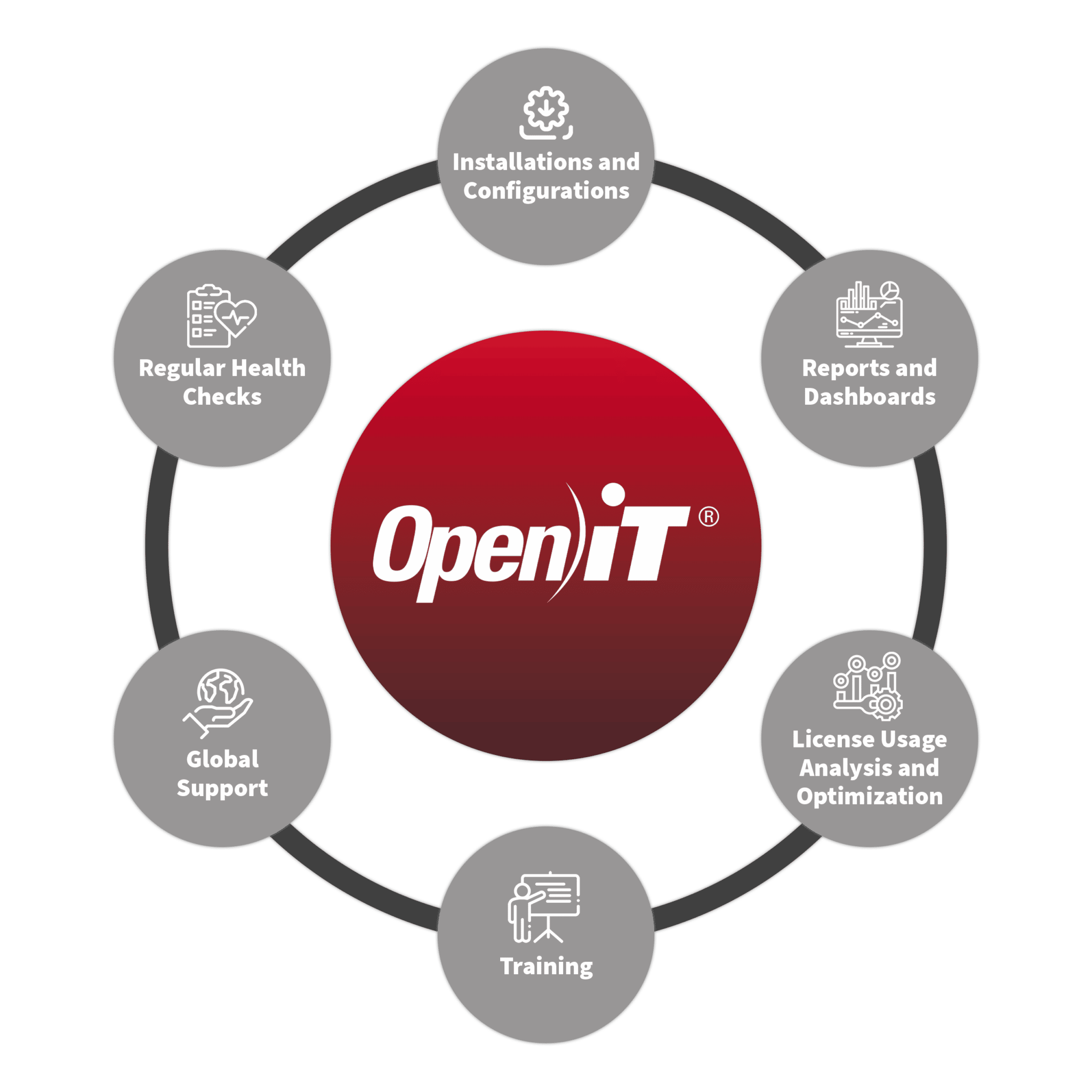 1. Installations and Configurations
Open iT provides managed services for cloud and on-premises installations.
This includes assistance in the installation of the Open iT solution, the provision of custom installers that will collect data from workstations, the installation of new versions and patches of the Open iT software on dedicated servers, and the configuration and removal of license servers.
2. Reports and Dashboards
Aside from assisting in the generation of standard template reports, Open iT also helps clients personalize their reports and dashboards.
These reports can be created using Spotfire, Tableau, Power BI, etc.
3. License Usage Analysis and Optimization
Leveraging Open iT's pool of ITAM and SAM experts, detailed analyses are provided to the clients to assist in their decision-making, enabling them to maximize their IT and software license costs.
Open iT provides technical recommendations as well as helps clients set optimization initiatives. This includes consulting on IT procurements, software license agreements, etc.
The collected data is analyzed and compared against industry benchmarks ensuring that the provided recommendations can adapt to the current environment.
4. Regular Health Checks
Quarterly health checks are conducted to discuss the status of the clients' requests measured against the signed SLA and to provide updates on the installed solution (server details, feature versions, installed patches, etc.).
Weekly, monthly, and quarterly status meetings are also organized to ensure continuity in the optimization process.
5. Global Support
Phone and e-mail support are available across different regions to cater to the client's technical and business-related queries and requests, regardless of the time zone.
6. Training
Open iT also conduct trainings which can be done remotely or on-site. Through these workshops, the customers can better navigate the Open iT solution and proactively participate in the optimization process.
These six services can be availed as a complete package, or they can be a combination of optional managed services.
Open iT also offers business consulting, ensuring that your software optimization efforts lead to the attainment of your business objectives.
Conclusion
Not all organizations need a SAM Managed Service Provider – sometimes, having the right tool or solution is enough; however, once the need arises, we recommend that you first set your objectives, assess what type of support you need from your MSP, and evaluate whether they are the right fit for your organization.
Want to know how Open iT can maximize your solutions and help you reach your license optimization goals? Contact one of our Business Solutions Consultants today!