If you have recently experienced renegotiating your contract with one of your major software suppliers, you are probably feeling a bit battered and bruised.
While vendor negotiations appear amicable to the casual viewer, it is more like a cold war — with you wanting to ensure optimal use of the software at a minimal cost, while your supplier aiming to increase revenue.
For any company, software contract renewals are a frequent and necessary pain point.
If you are in the scientific or engineering business, the pain is multiplied because you are reliant on so many specialized and costly software products, such as CAD, BIM, FEA, and GIS tools.
Most of this software comes with built-in analytics that measures usage from the vendor's perspective.
However, relying on a vendor's analysis of how you used their products over the last 12 months is like letting the wolf watch the sheep. Aside from having zero bargaining power, there is also no way you can rely on spreadsheets to extract usage data.
Not to mention, you would need a whole team of resources to do this.
Developing an efficient software asset management (SAM) process
So first, you need a license management software that is under your control and provides a comprehensive view of your company's license usage.
Reinforce this with a robust and efficient software asset management (SAM) process and a documented policy that cover all the bases on software access and entitlement.
Here are a few golden rules for running a tight SAM ship:
Document all software that are being used in the company and manage them in a centralized location. It is surprising how often business units acquire software without going through Information Technology Services (ITS) for proper evaluation and procurement. Ensure that there is a policy that outlaws this.
Eliminate any "shelf" software, i.e., software licenses that were purchased but are not used. You do not want to renew such licenses. This often happens in engineering and construction companies when a large project is undertaken, as the software required for the project is built into the total cost. When the project ends, the software licenses usually remain, although they are no longer used. Make sure that when the project is closed, ITS is kept in the loop so that the licenses can either be discontinued or absorbed into the existing license pool.
Implement a chargeback system, where business units are responsible for their software usage and the costs attached. This is one of the best ways to ensure that costs are contained because the business unit managers now have these costs adding to their monthly operating expenses, and they will swiftly act to reduce them.
You may already be at this level of SAM maturity, but there are still a few more tricks to have up your sleeve.
Know Your User (KYU) and educate them. If you have not yet implemented chargebacks, do it kindly, explaining to the managers and their staff how to get the best use out of their software at the least cost.
Reinforce this with license harvesting, again, introducing the practice with education and documented policy that stipulates how many minutes a license is idle before it is harvested and released back into the license pool.
Understanding the needs of your users
Your SAM software is essential for striking a balance between the number of users and the number of licenses, as you will see in the report illustrated below, which analyses the minimum number of licenses you need for peak usage.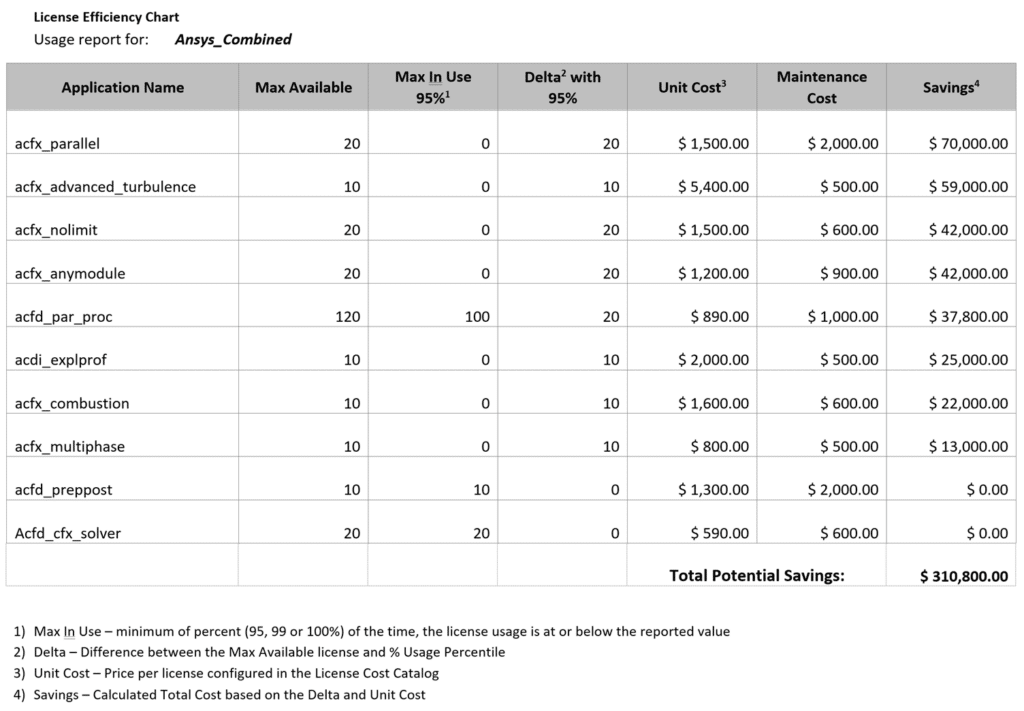 Planning your software needs for the next 12 or more months is never easy.
There may be a major project coming up, a possible merger and acquisition, which you will have to take into account, and the predicted growth for the next year.
This is where knowing your user's needs comes into play.
You will have superusers who really need the product for 60% or more of their workday.
Consider getting a named user license for them, which gives them the high availability they require (make sure that there is an automated notification from HR if a superuser leaves so that you can reassign or discontinue the license).
You will also have users who need a feature-rich version versus those who use a basic configuration. For instance, your admin staff probably do not need Access as part of their Microsoft Office bundle and can get by with the Basic bundle.
They do not need the Premium option, which costs 4x as much.
Another license type you can consider is a license that is linked to a particular machine. This license would suit an environment where a user occasionally uses special features, which they can access via this common-use desktop or laptop.
This by no means exhausts the combinations of license types that may be available to you, and what would be the best fit depends a great deal on your business model and architecture.
If you are a multi-national corporation, a global license is costly but may work out better than having several contracts with vendor partners across regions such as EMEA and ASEAN countries.
We have not even touched on SaaS, as that is a story on its own, although we realize that you may well have a mix of on-site and cloud licenses.
What we at Open iT have found is that many of our customers consult with us when it comes to license renewals, even if they have a mature ITAM and SAM environment.
The reason for this is that we have a major advantage in that we have oversight and historical knowledge of vendor products and licensing arrangements across a wide range of industries, ranging from energy and electronics, to automotive and aerospace & defense, based on previous experiences with our existing client base.
Do you need comprehensive insights to prepare for your next vendor negotiations? We welcome inquiries about our products & solutions – contact us today!