If you're part of an enterprise that considers Autodesk® as an integral part of their operations, you might have heard of the recent changes in Autodesk licensing.
This, accompanied by the latest price increase, might have prompted your organization to take a closer look at your Autodesk license usage.
In the second session of our Autodesk webinar series, Business Solutions Consultant Linda Cole talked about how you can evaluate your portfolio to maximize your software licenses.
In this blog, we will take this a bit further by diving into the different layers of license optimization.
We will also discuss how these can benefit your organization through the effective management of your Autodesk licenses.
The Three Layers of Autodesk License Optimization: What They Are and How They Can Benefit You
1.

Metering your Runtime Usage
Tracking your Autodesk license check-in and check-out time is the first layer of optimization.
This includes the real-time monitoring of your license usage as well as obtaining a historical overview of your consumption trends.
Just by seeing the difference between the number of purchased licenses and the number of licenses that are running, your team can already start formulating strategies to close this gap.
How can this benefit you?
You can use your runtime usage data to create heatmaps.
Heatmaps can take different forms. For example, we categorized the below heatmap into four time periods.
With this report, you can immediately see that over half of the collected Revit usage fell outside working hours.
Your team can resolve this issue by sending automated alerts to users who have exceeded the established threshold or if this is due to new work habits, you can plan accordingly.
You can also create other reports that can help your organization run more efficiently just by metering your runtime usage.
For example, knowing whether a user has been assigned the right Autodesk collection will help your organization prepare for the next purchase or renewal of licenses.
2. Tracking your Active Usage
Diving deeper into your Autodesk license usage means identifying whether your users are actively using the applications or if the licenses are left running but idle.
This involves the monitoring of resource usage, such as CPU, I/O, and keyboard and mouse activities.
Of course, your policies and priorities may differ depending on the type of application you're using, the type of project you're working on, and the type of organization you are in.
How can this benefit you?
With Autodesk's introduction of the Named User Subscription licensing type, you might be considering shifting to this new model.
Or you might be wondering whether what you have is enough.
You can use runtime data to conduct this analysis and generate License Efficiency and Distinct User Days reports. However, getting more accurate results requires the tracking of your Active and Inactive Usage.

For example, if you look at your runtime usage, you might come to the conclusion that a user would benefit from a Named User Subscription.
However, if you track their actual active usage, the data might show that Flex could be a more cost-effective solution.
This difference is crucial especially when you have hundreds or thousands of users in your organization.
3. Automating Autodesk License Optimization
The third layer of license optimization is automating the process through license harvesting.
In license harvesting, the system sends automated pop-ups to users when it detects their application as idle based on policies and threshold settings.
Idle licenses can then be suspended or terminated due to inactivity.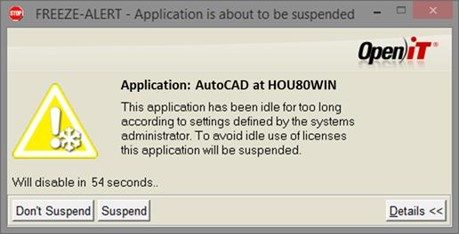 How can this benefit you?
The benefits of license harvesting can be realized whether you are using Token Flex, Autodesk Flex or Named User Subscription.
Generate savings by terminating idle applications before you are charged for another round of tokens – that's on a 24-hour period with Autodesk Flex and every midnight for Token Flex.
If you have Named User Subscription licenses that are regularly harvested, determine their true active usage. You might have license campers who could benefit more from Autodesk Flex.
Conclusion
Autodesk license management is a continuous process and continuously changing.
To ensure that your organization is getting the most out of your Autodesk purchases, you need to break through the outer layer of your software usage.
Schedule a free 30-minute consultation with our Business Solutions Consultant – together, we will look at your Autodesk portfolio and develop a process that can optimize your current licensing position.